What kind of RV do you own?
Our readers shared their preference in a recent survey.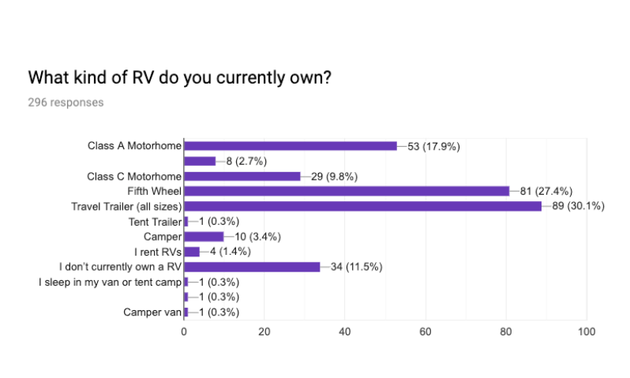 We want to know our readers as well as possible, so we recently sent out a survey to ask about your RV trends and preferences. One of the questions referred to your choice of RV unit.
Towables take the cake
Travel trailers (of all sizes) took the top spot, followed closely by fifth-wheels. This didn't come as a huge surprise, since towable units enable campers to detach their vehicles once set up at a campsite - a convenient option if you want to drive to the nearby attractions. With all the exciting activities and sites out there for snowbirds, you can imagine being able to venture off at any time (while leaving your campsite set up for your return) is an appealing idea. Being able to detach your vehicle is also handy if you want to explore backcountry roads or other rugged terrain you couldn't safely navigate with an RV unit.
RVing in luxury
Class A units made up the third most popular type. Rather than focusing on ease of use and affordability, class A motorhomes are all about the bells and whistles. Owners of these stylish RVs want to feel at home while they're on the road...and those homes can come equipped with all kinds of comfort items, since as fireplaces, central heating and air conditioning, entertainment centres and more. To expand the space, many are equipped with slide-out sections.