Cruising North American highways in a hotel on wheels
The front half of the vehicle looks much like any other tour bus, but the back half is quite another story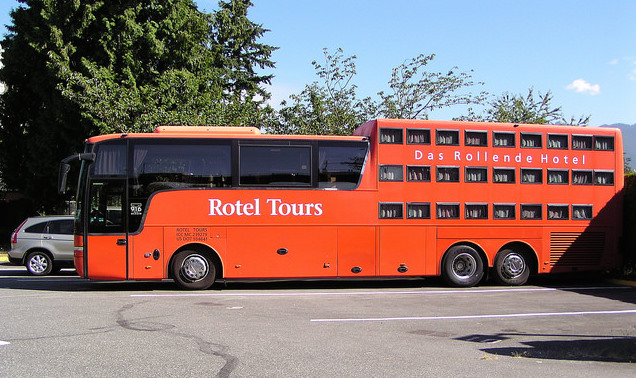 When Juliane Gude, Christophe Frauli and 14 of their newest friends rolled into the Capilano River RV Park recently, they turned more than a few heads as Christophe manoeuvred their strange-looking vehicle into its designated spot.
I had the same reaction when, 25 years ago, I first saw a similar vehicle being backed into the same spot.
Now when I see the first Rollende of the season, I know summer has begun in earnest.
What is a Rollende?
Unlike any RVs most of us have seen, they're not motorhomes, towables or even a regular North American tour bus. What are they?
The short answer is they're mobile hotels. Known in their language of origin as Das Rollende Hotels, they're owned by Germany's Rotel Tours, a 55-year-old company that, with a contingent of 60 tour guides, operates land cruises throughout Europe, Africa, North America and beyond.
The front half of the vehicle looks much like any other tour bus, but the back half is quite another story.
Rotel's North American buses provide 26 separate six-by-three-foot bedrooms. There's an on-board toilet for use between stops, but bathroom facilities are those provided at stops along the way or in the overnight RV parks and campgrounds.
The route
The first thing Rotel passengers do on arrival is disembark and set up their mobile campsite.
They travel hundreds of miles on day trips that range all over the map. By the time the buses arrive at the RV park in West Vancouver in late afternoon, passengers are more than ready to stretch their legs and settle down for a quiet chat over a beer.
Happy to accept their invitation to join them, I asked Juliane—a tour guide for 31 years—about this particular 22-day tour. She said it began in Los Angeles at Anaheim Harbor RV Park near Disneyland, continued to the Circus-Circus RV Park in Las Vegas and then back over to the coast road. From there they travelled north along the coastline from Santa Barbara to Oregon, Washington State and on to Vancouver, B.C.
"We take BC Ferries from Horseshoe Bay to Nanaimo and down to Victoria to see Butchart Gardens and the Royal B.C. Museum," she said.
Due to the German/English/German laughingly shared between 16 or 17 of us, I'm still unsure as to the exact route the bus followed from Las Vegas. What I do know is that Juliane said the remainder of the tour will include the usual popular destinations in Pacific Rim National Park and in Calgary, Jasper, Banff and the Columbia Icefields.
What is the impression taken away by the tourists?
After all the unfamiliar sights and places they had seen, I was curious about the memories these European tourists will have of Vancouver. So through Juliane and helped by my halting German and friendly interjections from the assembled group of 55-plus vacationers, I was happy to hear that apart from it being "too expensive' (ain't that the truth?) they had a very favourable impression of British Columbia.
"Their favourite part of the tour is the West Coast and everyone likes Canada," Juliane said.
"What have they enjoyed the most about B.C.?" I asked.
"Nature—the landscape, fauna, and friendly people," she said.
That's so good to hear, isn't it—especially when we know a large proportion of the Canadians these tourists meet and chat with are us RV folks in the parks we call our own.