Vast fields of flowers
An RV visit to the Skagit Valley tulip fields proved to be unforgettable
by Lynn Jackart —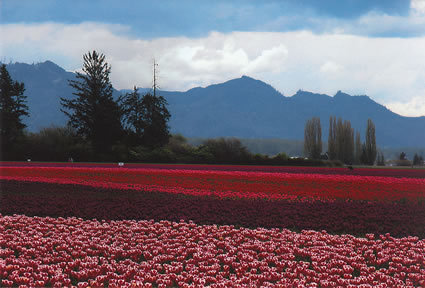 The warm April air was a promise of spring and new beginnings. At this time of year, flower bulbs planted in the fall were in bloom and we wanted to experience the fields of colour.
Once we crossed the Canada/USA border and entered I-5 we took Exit 230 at Burlington and turned left onto Highway 20 west. The paved highway passed flat farmland and many turn-offs leading into small towns and farms.
Once over the Swinomish Bridge we arrived at gorgeous Fidalgo Island. A right turn and short drive took us to the Northern Lights Casino and RV Park. Here, a full hook-up campground behind the casino was home for $22 a night.
We registered and parked the motorhome in our designated site. These sites overlook the Swinomish Channel, a busy channel leading into the picturesque town of La Connor. The car was unhooked and we were ready to explore.
The tulips were off the highway along country roads and lanes, signs were helpful finding the fields. We also had a map from http://www.tulips.com indicating the tulip, daffodil and iris fields.
We followed the map/signs and suddenly acres of tulips appeared in the distance. Planted in arrow-straight rows, the fields extended as far as the eye could see. A backdrop of the Cascade Mountains highlighted the different petal shades. Every flower was in full bloom and the same height (approximately two feet tall)—the beautiful hues took our breath away. Rows of vivid deep purples, dark reds, sunny bright yellows, pastel pinks and red and white variegated flowers laid a carpet of colour. The tulips were the size of baseballs or larger, standing straight and tall.
Getting a closer look
We parked the car and wandered up and down the rows of blooms each colour and flower was perfect.
This was a photographer's paradise. Children were nestled among the flowers, some almost as tall as they were. Professional photographers with large lenses were trying to get the perfect image of a single blossom and visitors walked between the rows admiring the massive blooms.
We continued on our scenic tour, driving from one farm to another—each as impressive and the other. A large mass of yellow daffodils swayed in the sun and laid a carpet of yellow that seemed endless.
The climate of the Skagit Valley is perfect for growing these magnificent flowers and we were fortunate to see this annual display so close to home.
For information on this year's tulip festival, go to www.tulipfestival.org.