RVers tips
The Victoria, B.C.-based couple has learned a thing or two about full-timing,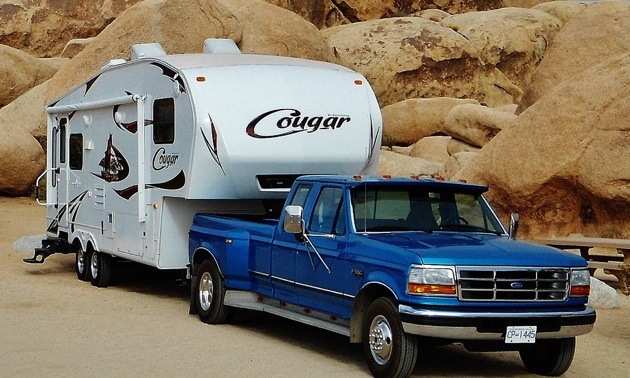 Full-time RVers Ray Burr and Ann McKinnell have earned their stripes as snowbirding adventurers. While traversing America's perimeter and Canada's Maritime provinces, the Victoria, B.C.-based couple has learned a thing or two about full-timing, and they offer tips for making the most of the RV lifestyle.
It is a lifestyle, not a vacation
And that is Ray Burr's first tip for anyone trying out RVing for the first time: it is a lifestyle, not a vacation.
"If you are really new to RVing and you've never been in an RV before, rent or borrow one first to see if it's something you are interested in," he said. "And be realistic: if you're going to be a full-timer or a snowbirder, you can't act like you're on vacation all of the time."
The couple has seen it all—waking up with a foot of snow outside in Albuquerque, New Mexico (by noon it was 80 degrees again), a sugar ant invasion that slowly filled their rig with tiny ants that even made their way into the candy wrappers, and a rocking rig at an oceanfront campsite in Newfoundland, having caught the tail end of two hurricanes.
Keep a slush fund for emergencies
Top of the list for survival tips is keeping a slush fund of extra cash for emergencies or breakdowns. "Something is always going to break, and it could be expensive," said Burr. "Always have a bit of money set aside." In South Dakota, for instance, giant hail storms cost one couple Ray and Anne met three trucks and even an RV. "Sometimes the hailstones were as big as quarters," said Burr. "It totally freaked us out."
Times of trouble are far outweighed by memorable moments and beautiful experiences that remind the couple daily why they set out on their quest to begin with.
Choose your Rig to suit your needs
"There are the sunsets and sunrises, and some killer views," said Burr. "There are parts of the country that you never would have thought are unbelievably gorgeous."Catching the view was a big part of why they chose the 2011 Keystone Cougar fifth wheel, which at 30 feet gets them into smaller, unique spots. They chose a model with huge side and back windows so poor weather doesn't deprive them of enjoying the landscape, and the layout is smart, said Burr, maximizing available space and offering top notch storage. "Being on the small side, we don't always have to reserve ahead," he said. "You need less truck to tow it and it's cheaper to tow it."
This is an important consideration: before picking a rig, check with the truck dealership to make sure you have the necessary truck power, said Burr. "You can't always believe the RV sales guy. He wants to make the sale and he doesn't always know for sure. Better to check with the truck guy."
Camp in your driveway before you set off
Take your time getting to know the RV's systems with an at-home stay-cation, he said. "When you first get an RV, camp in your driveway for a week or two and get used to the systems and how everything works. Don't just head to the park right away or you won't have very much fun." A great tip is taking a camcorder when you go to pick up your new RV so you can make a video of the salesperson explaining the systems and how the features operate.
Find new places and experiences to explore
On the couples' last trip they fell in love with boondocking—dry camping in often remote areas with no hook-ups. "You can be as close to or as far from civilization as you want," said Burr. Some boondockers have solar panels on their rigs and just have to empty their waste tanks. "We can go seven days on one waste tank and we have a 120-gallon water storage tank."
And never forget that fun and adventure is the reason most people get into RVing full-time or take on smaller RV trips. The couple has visited more state parks than most people can dream about, but also recommend seeking places that are less often seen. "Don't just go to the popular parks with all of your friends," said Burr. "Get outside your normal boundaries, explore and meet people. Go places and to parts of the country you've never been before and really see things."
Do your research
Wherever you head, be sure to plan for cost-effective geography, he adds. "Some people head south out a little more east through Idaho, but it is mountainous and there can be snowstorms and it takes more fuel," he said. "It is flatter on the Oregon coast and there isn't usually snow in October." Anne recommends asking national park rangers for the inside scoop on interesting things to see. "The rangers always know about special places that aren't seen by everyone and take you off the beaten path," she said. For more tips and to share others' adventures, research on the Internet, said Ray. "There are blogs, forums and social media galore all talking about RVing."
Visit Ray Burr's blog for tips, tricks, and travel stories at www.loveyourrv.com.