Summer RVing with Fido: Tips for travelling with your dog
With a bit of preperation both you and Fido will have a smooth-sailing time on the road.
Submitted by mobilerving.com —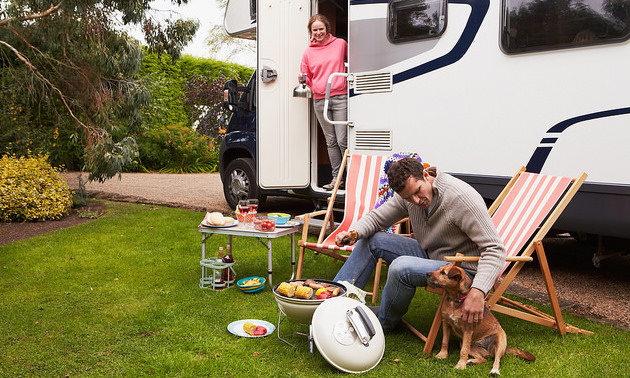 If you're like many RVers, the thought of leaving your four-legged buddy home while you embark on an exhilarating trek is more than just sad—it can seem downright cruel. Most canines boast a natural thirst for adventure, which makes it completely understandable why they are a necessary presence during your trips.
That being said, journeying with your dog(s) takes an extra element of consideration when deciding how and where to travel, but even still, you don't need to fret. The following advice should help both you and Fido have a smooth-sailing time on the road.
Research pet-friendly RV parks
Take your time when planning your trip to adequately search for RV parks that are pet-friendly, and keep in mind that, depending your animal's needs, "pet-friendly" should generally mean more than simply allowing dogs to come to the campground.
Here are some items to inquire about when making reservations:
Will your dog have to be on the leash the entire time?
If there is a strict on-leash policy for the general campsite, is there at least an off-leash play area or walking trails that you can utilize with your pup? Dogs need exercise, so it won't be much fun for either you or your pets if they'll be on a literal short-leash the entire time.
Does it cost extra to camp with your dog? Some RV parks charge their visitors extra when bringing their pets.
Are there any breed restrictions for that particular campground? Check for state- or city-specific dog restrictions as well to avoid problems with restricted breeds in certain locales.
Is the campground near any emergency veterinary clinics? You'll want to have access to medical care if your pooch were to experience an urgent matter.
What medical records are necessary? In order to keep other dogs safe, some campgrounds may request that you bring in proof of your dog's rabies vaccine, among other documents. Always call ahead and get this information so that you come equipped with all necessary documents.
For a look at some other possible dog-based amenities to look into, here's a campground that takes the term "dog-friendly" to a whole new level!
Create Fido's camping checklist
Now that you've reserved your pet-friendly campsite, it's time to create a checklist that includes everything your darling dog will need:
Food/water: bring enough of your dog's food to last the duration of your stay. The area you're travelling to might not supply the same brand, and changing your animal's food abruptly can result in digestive issues. Also keep the dog food in its original container if you are crossing into the U.S because border personnel may want to read the list of ingredients to check for any that may not be brought into the country.
Medications: if your pet is on any medications, make sure you have enough to last the length of your vacation.
Proof of vaccinations: some RV parks may require this information for all of their four-legged guests.
Leash/harness: don't forget the leash, as you'll probably run into many areas that require your dog to be on one during your journey.
Insect repellent: you don't want your poor pup to be eaten up by ticks, mosquitos, ants, etc., so ask your vet what type of bug repellent works best for dogs.
Up-to-date tags: make sure your dog's name tag has your current phone number/address on it just in case you were to get separated.
Stop frequently for water/bathroom breaks
It's important to encourage your pet to stay hydrated, so try to stop every few hours to let your dog drink and use the bathroom. It's also a good idea to just let your dog stretch his/her legs, so also walk around for a few minutes when making a pit stop.
Never leave your dog In a hot RV
During hot, summer months, the inside of a vehicle can heat up dramatically, making it very dangerous to leave a dog in there. Never leave your dog unattended for very long, but if you must step away for a few minutes, make sure the air conditioning is in full swing. You shouldn't rely on this for too lengthy of a time, however, as sometimes hookups can fail, causing the air conditioning to shut off.
The only way to truly play it safe is to treat your dog just as you would a family member, so try your best to avoid going anywhere that doesn't allow your furry travel companion to join you.
Have fun
As long as you take some extra care and precautions when travelling with your dog, you should create an adventure that all parties will truly enjoy. RVing with a pet takes quite a bit of thoughtfulness and planning, but when you see the tail wags and the lit-up doggy smiles, all of the extra work will be more than worth it.