RVDA of Alberta gearing up for the top expos of the year
RVDA of Alberta is busy preparing for the Edmonton and Calgary shows, which take place in January and February.
by Karen Kornelsen —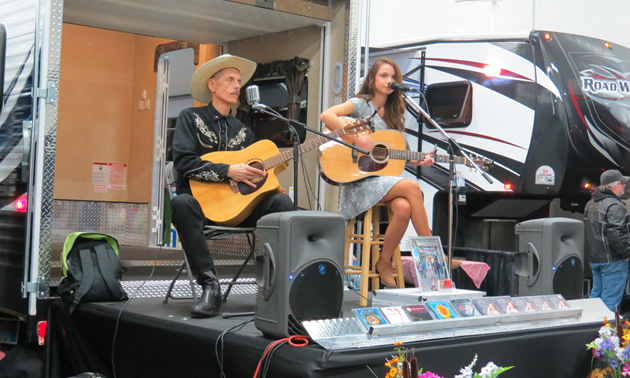 It's that time of year again. The RVDA of Alberta is in full swing, getting ready for its two expos in January and February. For those looking to buy an RV or to outfit their rig with the latest products, these shows should not be missed. The Calgary RV Expo and Sale takes place January 29 to February 1, 2015, at the Calgary BMO Centre and the Edmonton RV Expo and Sale takes place February 5 to 8, 2015, at the Edmonton Expo Centre.
Dan Merkowsky is the executive vice president of RVDA of Alberta. He said there's lot to look forward to this year.
"You're going to see a lot of new variations of floor plans this year," he said. "The manufacturers really do listen to the consumers. When people have good ideas, they can always contact the manufacturer. Dealers also have an input and manufacturers do listen and do adapt to give people what they want."
At both events there will be draws for Safeway vouchers to win free groceries. Alberta Provincial Parks will also be giving out one-month stays at a couple of their campgrounds, among other great prizes. There's fun for the whole family with clowns, fish ponds and live entertainment.
Merkowsky said the time to buy is at these shows. With the Canadian dollar where it's at, people can save a whole lot of money on a new RV. Banks are also on hand for financing and Merkowksy said they've been great to the industry because they know it's secure. Banks will be giving their best rates at the shows.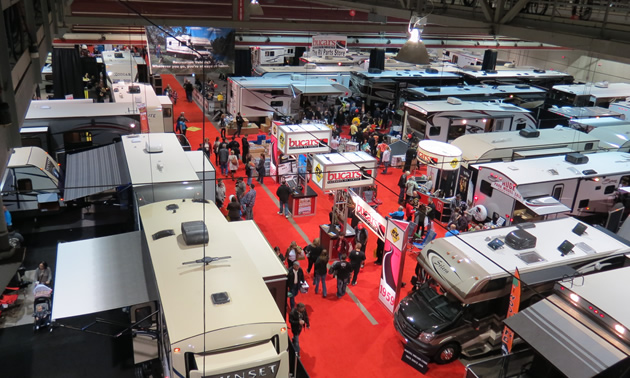 Calgary Expo
"After the floods last year in Kananaskis Country, a lot of work has been done," Merkowksy said. "There are more campgrounds available now and they've been refurbished. I think more people are enjoying the RV lifestyle in Alberta and this year will hopefully be a great year."
The Calgary Expo will take up the whole facility and will also have 97 smaller booths for people promoting facilities and campgrounds. Aftermarket items will be on sale as well.
Edmonton Expo
The Edmonton Expo is the biggest show in Canada and takes up about 500,000 square feet. RV City is stepping up its display downstairs, with about 30,000 square feet of products.
"We are very excited about that and all the new products everyone else will have on display," said Merkowsky.
What's new
There will be lots of exciting new floor plans and products this year. Carefree Coach and RV will be debuting their retro motorhome, the Brave by Winnebago. This 2015 product will bring back the iconic 1960s and 1970s motorhome.
"This motorhome will bring back a lot of memories for a lot of people," said Merkowsky. "I don't know if these people are still in the market to buy one, but I'm sure they'll be encouraging their children to purchase one. The colours are pretty wild on it too, so people will notice you coming down the highway, for sure."
Carefree Coach and RV is also excited to debut the 2015 Ellipse Ultra. This diesel pusher is a step up from the standard Ellipse, with upgrades such as a full-length, roof-mounted Girard awning. An outside tailgating package is available, as are polished porcelain tiles with insets, a skylight in the cab, multiplex switch panels, one-push bottom for all shades and custom paint schemes.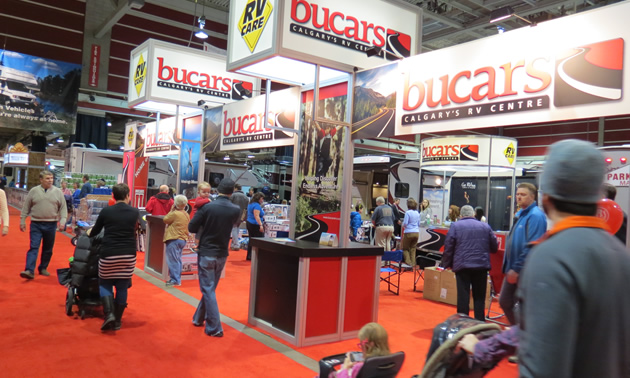 Paradise RV will display a toy hauler with a side balcony. Everyone was checking this out last year and they say it's great because it has glass doors and it opens up on your kitchen so you can cook, eat and sit.
"Maybe about four or five years ago manufacturers came out with the back end balcony," said Merkowsky. "But now we have a side panel that flips down to make a patio. Some people will be able to enjoy the luxury of a back and side patio.
"Another cool new feature is they've created a side panel that you can drive your motorcycle into. There's definitely some neat new features for people with motorcycles."
Merkowsky said the RVDA of Alberta is looking forward to the shows and the upcoming year.
"This year the RVDA of Alberta is number one for the sales of RVs in Canada," he said. "We saw a growth of seven per cent this year. It's great that we're seeing more people getting into RVs. Demographics have also changed. We're seeing more younger people getting into the industry compared to the rest of Canada. So these are positive trends for the industry at large. People want to get into it and enjoy all the RV lifestyle has to offer."