Rock 'n' roll RVs feature in a new reality TV show
Bret Michaels has logged more than three million miles in RVs and tour buses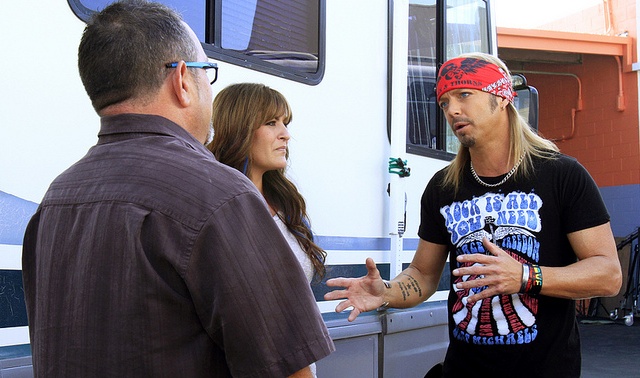 What's the difference between a rock star's coach convoy and a snowbird's comparatively modest motorhome?
According to Bret Michaels, former Poison front man and host of the original new series Rock My RV with Bret Michaels—which premiered May 26 on the Travel Channel—it's all up to the driver.
"It's still the same open road," said Michaels. "It's still a great experience. It's really up to you where you take it, where you want to go."
Michaels speaks from experience. From childhood road trips in his family's Winnebago to touring the U.S. in his own custom coach, the rock musician has logged more than three million miles in RVs.
"Some of my best childhood memories are from RV road trips," he said, naming Pennsylvania and Florida as family favourites. "Eventually . . . (RVing) became part of what my real life is . . . moving from an old beat-up Ford Econoline ambulance and getting that to run and travelling the country in that starting in the very early parts of my career to travelling in, you know, the rest of my career in really, really custom-built tour buses, Prevost tour buses."
Now, in his new reality series, Michaels works alongside master fabricator Bodie Stroud and lead builder Jake Scott to bring about the same kind of transformation for fellow road dogs, transforming 16 well-worn, dilapidated RVs into luxurious, over-the-top, hooked-up mobile mansions on the road. Each vehicle on the show is outfitted with deluxe amenities and pushes the bar on RV design, creating tailor-made vehicles "that open-road dreams are made of."
The people are the story
In addition to a focus on the state-of-the-art technology behind the transformations, Michaels said his "passion project" tells the stories of the people that ultimately decide how far each RV will go—the drivers and passengers.
"On this show, one of the most important things that I do is that the story is not a backstory about the people that own these RVs," he said. "It's going to be the front story, and then have the mechanics of how we actually achieve this."
Michaels added that while he and his design-and-build team are "doing things that have never been done before," their work remains respectful of both form and function.
"I want it to be fun, but it's got to function," he said. "And I want their experience when they leave to be enjoyable. A lot of these shows, I want to be very straightforward; a lot of these RV shows, they build these in a garage and they make things that could never possibly go down the road. My job is to make it be able to go wherever they want it (to go)—go under any bridge, go anywhere they want, any beach, any side of a mountain that they want to go. I want it to be fun and functional.
"I'm amped to work with each of the owners and take their RV experience to rock star status."
The series will be complemented by an online contest called Rock My RV with Bret Michaels: Epic RV Giveaway Contest, in which one viewer will have the opportunity to win a custom-built RV designed by Michaels. Until July fans can submit a video entry through TravelChannel.com and the winner will be revealed as part of the show's one-hour finale.
For more information on Michaels, visit his official website.