RV travel has built a lifetime of memories for these snowbirds
Elmer and Carol Miller of Kingsgate, B.C., have learned to love life on the road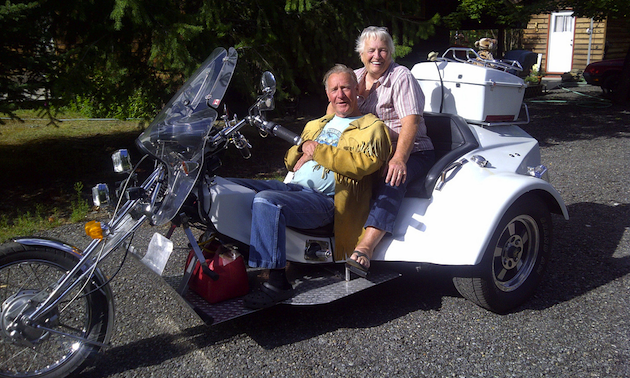 Elmer, 79, and Carol Miller, 75, of Kingsgate, B.C., have been RVing since the late 1970s. They were married in Claresholm, Alberta, in 1955. Elmer held a career as a long-haul truck driver and later became a heavy duty mechanic. Carol was a certified nursing aide and held the position of unit clerk for 14 years and retired in 1988. During this time Carol was also raising their four children at home.
Heading south for winter
Elmer and Carol enjoy the liberty of coming and going as they please. Early on in the beginning of their travels, they started off tenting and later upgraded to a motorhome. This couple doesn't think twice about packing up and heading south during the Canadian winter months.
"We simply did not like the winters here in Canada so off we would go," said Carol.
As snowbirds they travelled all over the western states and most of the eastern states.
Favourite country
What began as an invitation to a wedding in Mazatlan, Mexico, ended up turning into a five-month stay. Elmer and Carol enjoyed Mazatlan immensely and ended up returning back there for four consecutive years. Mazatlan is one of their favourite places to RV because of the extensive beaches and the good-natured people who live there.
"You would think people would be jealous of what you've got and what they do not have but they are not," said Carol. "People in Mexico really are wonderful."
Every experience offers something different
Puerto Vallarta, Mexico, is another favourite destination they enjoy RVing to as it seems to be home away from home.
"It feels like home, a place where we belong," said Carol.
They love Mexico and plan to return there as often as possible.
"You can find something good in every place. Every place has something to offer," said Elmer. "We are very fortunate in the fact that we both love to travel."
Singing in the desert
A fond memory neither Elmer nor Carol will forget happened while camping in Yuma, Arizona. Out in the middle of the desert with no power, surrounded by 27 other RVs, left them to create their own entertainment. A fellow camper named John had an organ powered by a generator and a lamp sitting on top of it. While everyone gathered around, he began playing tunes they all knew.
"We all sat around the campfire, sang songs and had a wonderful time," said Carol. "We still keep in touch with a few of them today via email and phone calls. Camping out in the desert gave us the opportunity to meet lifelong friends."
Elmer and Carol spent the next 22 years returning back to Yuma at this camping spot called Pilot Knob.
Practical advice
RVing can either be a wonderful experience or it can be full of difficulties, said the couple. Advice they would like to give anyone considering RVing is to realize that you must not expect the places you visit to be home.
"Take things as they are. Be friendly to people around you and they will be friendly toward you," said Carol.
Familiarize yourself with the history and culture of places you plan to visit. Displaying knowledge about a new destination is often perceived by others as a sign of respect.
"Learn about the country before you go," said Elmer.
Get up and go
Elmer and Carol's trips are spontaneous. Whenever either of them get the urge to travel, off they go.
"We never planned it, we just went and made sure we did not backtrack the same way we came down," said Elmer. "We took new routes on our way home to ensure we saw even more new sights and destinations along the way."
RVing is a way of life for Elmer and Carol and they say travelling has increased their quality of life. Together they've shared experiences that create memories for a lifetime.
"RVing is fantastic," said Carol. "We will do it for as long as we can."