RVwest donates over $2,100 to STARS
RVwest rally raised a record $2,148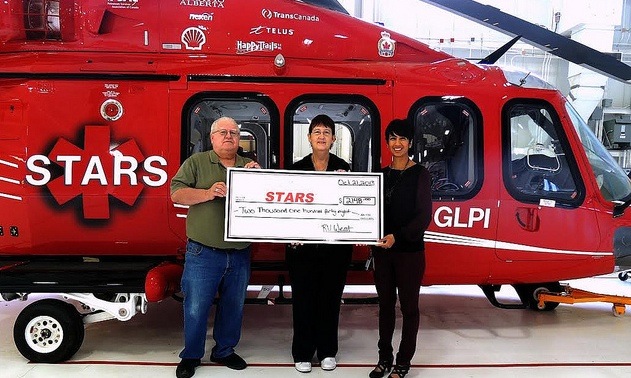 RVers from across western Canada converged on Fairmont Hot Springs in September for the 9th RVwest Rally hosted by RVwest and Duane and Lynda Pilson of Rec Vee Holiday Adventures. The three-day 2013 rally was blessed with great weather and equally good portions of fun and learning.
The annual get-together saw almost 70 enthusiastic RVers with over 30 units on-site—everything from massive Class A motorhomes to Class B van conversions. The rally's informative how-to seminars featured RVwest columnist Reg DeYoung, who did a great job in his trouble-shooting presentations.
One of the highlights of the weekend event was a tour of historic sites of the Columbia Valley. This tour gave the participants an inside look at historic places like the Stolen Church of Windermere, the Columbia Valley Heritage Museum, the Conrad Kain cairn and the David Thompson Kootenay House historic site.
The rally participants enjoyed a wrap-up buffet banquet at the Fairmont Hot Springs Lodge and were entertained by Marty and Eli, local musicians from the Columbia Valley.
Sunday brought what has become a tradition at RVwest rallies: the annual silent auction featuring items of all descriptions donated by the participants. The charity of choice for the organizers was STARS air ambulance and this year a record $2,148 was raised—bringing the total monies raised by the rally for STARS in nine years to over $12,000. This year's donation was made in the name of Gonnie Carlson, an avid RV Rally participant who succumbed to cancer in the past year.
"A big thank you to RVwest and everyone's support of your silent auction, as it is the giving heart and continued support that keeps us in the skies caring for patients," said Nafisa Taimuri of the STARS Foundation. "Without your support it would not be possible."
It keeps getting better
Attendees agreed the rallies get better each year.
"This was our ninth annual rally and many said one of our best," said Pilson. "We allowed lots of free time for everyone to visit and relax, along with special events like the tour and silent auction. We were very pleased with the way the rally turned out in Fairmont."
Also attending the rally were the publisher of RVwest magazine, Keith Powell, and his wife Linda.
"We enjoyed meeting new attendees and re-acquainting ourselves with those who have attended before," said Powell. "Their amazing generosity in supporting the STARS charity auction and pitching in to help was really appreciated.
"I want to thank our sponsors and especially Duane and Lynda and their helpers Louie and Laurel Dubois for working so hard to make the Fairmont rally one of most enjoyable."
Watch for information about next year's 10th anniversary reunion RVwest Rally. We hope you can join us for a weekend of enjoying the RV lifestyle.