Don't miss these Canadian RV shows in 2023
Plan to attend these eagerly anticipated RV events happening in 2023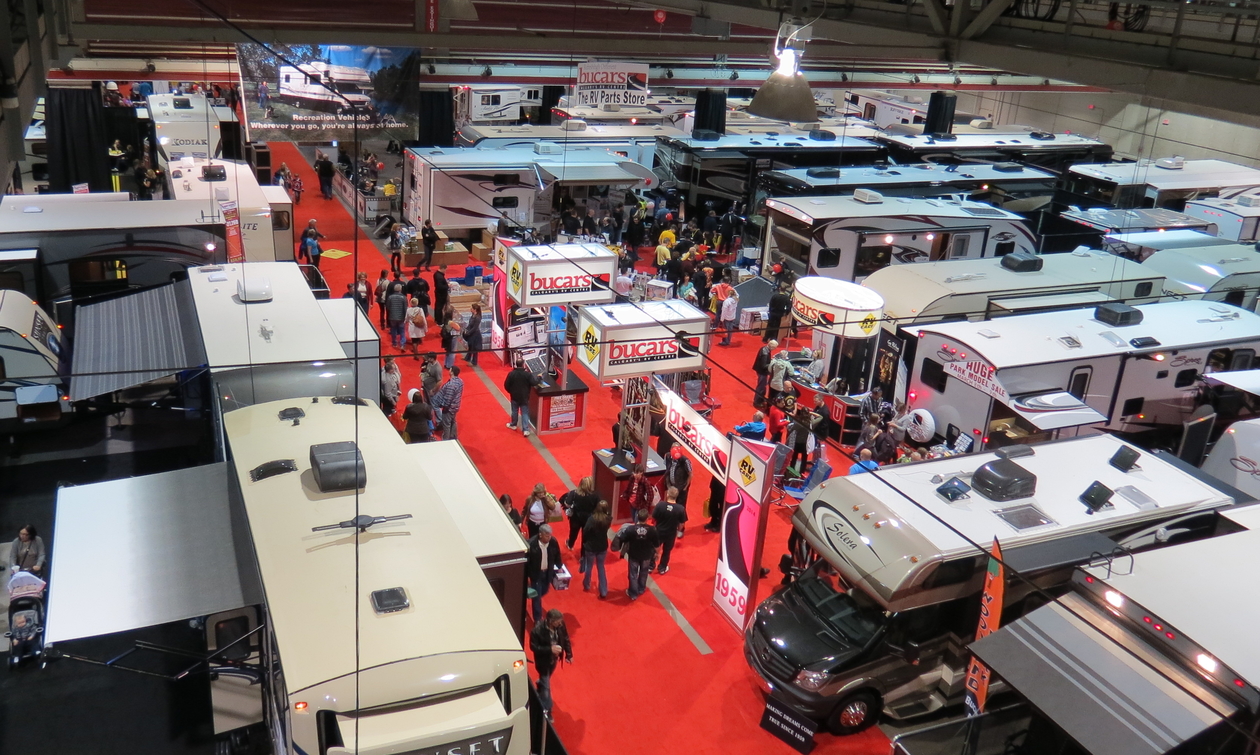 Pull out your calendar, it's time to add some new events to your 2023 itinerary. Several Canadian RV shows are scheduled to return, with a brand-new lineup of RV units, accessories, educational resources and like-minded folks to make the trip well worth it.
These are a few of the events you won't want to miss out on:
Location: Halifax, Nova Scotia
Date: January 19 - 22, 2023
The Halifax RV Show & Sale is held at the Halifax Exhibition Centre, and is renowned as the largest multi-line indoor RV event in Atlantic Canada. RV enthusiasts love the fact that they can find a unit for any budget or style preference here. The show is hosted by the non-profit Atlantic Recreation Vehicle Dealers Association (ARVDA).
Location: Calgary, Alberta
Date: January 26 - 29, 2023
The Calgary RV Expo & Sale is taking place at the BMO Centre in Stampede Park. This show is well known for having impressive new units at unbeatable bargains.
Location: Edmonton, Alberta
Date: February 9 - 12, 2023
Plan to attend the Edmonton RV Expo & Sale in February and you won't be disappointed. As with the Calgary expo, the Edmonton show is hosted by the Recreational Vehicle Dealers Association (RVDA) and reliably features some of the top brands in the RV world.
Location: Red Deer, Alberta
Date: February 23 - 26, 2023
The "biggest little RV show on earth" is back for 2023, with stunning new RV units and a myriad of products related to camping, travel and outdoor recreation.
As one of the most impressive shows and sales in Central Alberta, The Red Deer RV Show features five big RV dealers, selling many different lines and types of RVs. There will also be a wide range of vendors at the show offering just about everything you may need or want.
Location: Toronto, Ontario
Date: March 2 - 5, 2023
The Toronto Spring Camping and RV Show - AKA "The Big One" is an eagerly anticipated event. Attend seminars and listen to engaging speakers at the International Centre, then shop for a new RV unit or pick up some cutting-edge gear to make your next camping trip amazing.
Location: Montreal, Quebec
Date: March 2 - 5, 2023
The Montreal RV Show is coming back to the Palais des congrès de Montréal next spring, showing off the newest makes and models.
Location: Moncton, New Brunswick
Date: March 9 - 12, 2023
The Moncton RV Show & Sale is slated to happen in March of 2023, at the Moncton Coliseum Complex. Whether you're new to the RV lifestyle or a seasoned full-timer, there will be something to catch your eye at this massive event. There will be educational seminars and pricing exclusive to the show, so you won't want to miss this one.
We will continue to add to our list of RV shows, and update if and when conditions change. Stay safe, and enjoy the return of your favourite events!