Rollin' through life
For the Vanstones, RVing is a way to meet interesting people and discover new places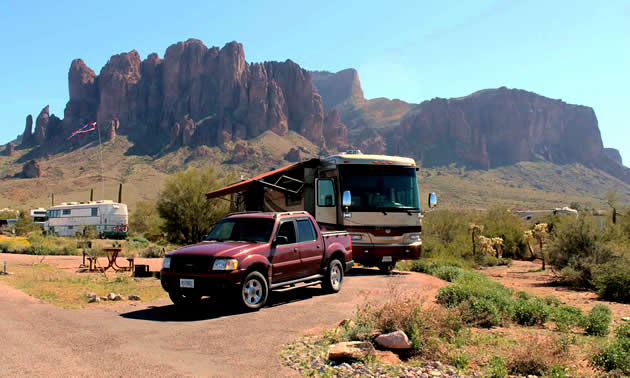 Larry Vanstone, an RV salesman, had a bit of a problem. He was envious of his customers. Every spring, RVers would show up at work and tell him all about the places they'd been and the things they had done.
Luckily for Larry, his wife, Marilyn, was also keen to give full-time RVing a try. They had first met while working for the same RV company in 1980. When their kids moved out and headed from Vancouver to Ontario, the Vanstones agreed that it was their time to take to the road. They took a year off to really get their feet wet with a trip to the Baja. Since that first trip they have returned to calling their 40-foot diesel pusher home throughout the year.
"I've talked to thousands of people who were going to full time just as soon as something (they're waiting for) happens," said Larry. "They keep saying, 'Larry, you're living my dream. You're living my dream.' And my comment is, 'No, I'm not living your dream. I'm living my dream. Get out here. You could be living your own dream'."
Right at home
For the Vanstones, connecting with people from around the continent has been one of the biggest advantages of their full-time lifestyle. Over the summers they stay at a conservation area on Lake Ontario and touch base with the other temporary locals. The rest of the year is full of chance meetings, catching up with fellow RVers, and park parties. The Vanstones have made good friends from almost everywhere, be it Chicago, Winnipeg or Arkansas.
Marilyn also particularly enjoys being able to combine the travelling life with the comforts of home.
"For me (the biggest benefit) is being able to travel in my house," she said. "It doesn't matter where we go, or where we park, you close the drapes at nighttime and you're home. Your kitchen is all set up the way you want it and you've got your own towels, your own bedding. You've got your TV and your remote, so you're at home and that is a huge advantage."
Skype, smartphones and prevalent Wi-Fi solved many of the communication struggles of RVing in recent years. The Vanstones' biggest challenges now include finding any needed medical care en route, missing their kids who are back home and finding their way around strange grocery stores. For the most part, they've learned how to roll with the punches.
"We've been doing it long enough that we've kind of worked through most (possible problems)," said Larry. "It's just part of life. It's just the way it works. We've had the breakdowns. We've been stuck in the mud in Mexico. We've got all the stories. People who spend a lot of time in their RVs are really friendly. They'll do anything they can to help you. So there's always somebody fairly close, and because we've been doing this for so long now, we're never that far from somebody we know."
Sharing the knowledge
Larry has been working with RVers for over 35 years and he still does job sharing through the summer when back in Canada. He also maintains a blog where he answers common RV Questions.
The Vanstones are obviously passionate about sharing the RVing lifestyle, which they said is simply because they enjoy it so much. So what is some of their top advice? Larry recommends doing unit maintenance before leaving home. This can help save the excessive costs and hassle of on-road repair. Also, anyone who's looking to really get into RVing should start with a used unit in good shape. It's the only effective way of learning what you want in a motorhome, said Larry.
After years of travelling, Marilyn also had some advice to add. She weighed in on the contentious question of extended warranties.
"If you have the opportunity, buy an extended warranty on your coach," she said. "The extended warranties that are out there can be for lots of years and thousands of miles. It covers like a blanket—I think it is amazing to have an extended warranty."
While they're having fun
When they look ahead, the Vanstones can foresee a day when they'll move back to a more traditional life, trading their moving condo for one that's more stationary. That day won't be today, however, and it probably won't be tomorrow. For now, they're enjoying their hobbies, pets, friends and exploring too much to stop.
"At this point we're having fun, we're having a good time," said Marilyn. "We're just kinda taking it a year at a time. We've watched so many people pull off the road because of their health or issues and it's kind of sad. We're thinking, well, we're healthy and we're feeling good, so let's give it another year, or two years, or whatever we can do."
"We've had some good times all over the place," said Larry. "People ask what our favourite is. Well, what's my favourite today? . . . All the places kind of run together after a while but wherever we go there's usually something going on . . . At the end of it all there are some good stories."