Idaho: Let's go!
Sandy beaches and versatile attractions await.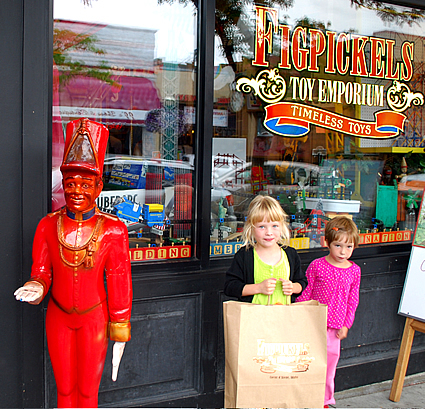 Thinking of hitting the beach next summer? While it may not be the first state that leaps to mind, it is worth taking a closer look at Idaho's Panhandle as the perfect location for the building of your next sand castle. Home to some of the Northwest's largest lakes, and just a short jaunt across the US border, there is plenty of family fun to be found under Idaho's sun.
There is no need to venture far south of the border to find a beach vacation that your family will love. Last summer I packed up my somewhat skeptical kids and headed south to Sandpoint, Idaho. Sandpoint is a lovely town; full of quaint shops and trendy eateries, located on the shore of Lake Pend Oreille. Idaho's largest lake (the fifth largest in the US), Pend Oreille is 850 metres deep and 105 kilometres long, making it an ideal destination for boaters, anglers, swimmers and beach goers.
Beachfront wonders
The city beach in Sandpoint is the place to be on hot summer days. Surrounded by water on three sides with plenty of sandy areas, City Beach has clean change rooms, a playground, concession, lots of free parking and an RV park nearby. It's just a short stroll to the main street, and my family was more than happy to be left at the beach while I explored Sandpoint's many unique shops.
Another great beach experience can be had in nearby Coeur D'Alene, Idaho, about 70 kilometres south of Sandpoint on US Highway 95. Coeur D'Alene's City Park features a beautiful public beach with lifeguards on duty during the summer, and the Fort Sherman Playground—a 15,000-square-foot playground designed by local children.
Coeur D'Alene's historical shopping district on Sherman Avenue is not to be missed either. Even the kids enjoyed this shopping adventure, especially our trip to Figpickels Toy Emporium and patio lunch at Boston's Pub. The pub had an impressive children's menu; my daughters were beyond thrilled when their peanut butter and jelly sandwiches came with the crusts cut off.
A theme park with everything
No family trip to Northern Idaho is complete without a trip to Silverwood Theme Park. The park is located between Coeur D'Alene and Sandpoint on US Highway 95 and features over 65 rides and attractions geared for all ages. Silverwood is home to four enormous roller coasters, two of which are wooden, with the Timber Terror—boasting speeds of nearly 90 kilometres per hour! There are plenty of less terrifying rides for those that find the thrill of a coaster a little too thrilling. Silverwood has a number of entertaining shows as well, featuring everything form magic to train robberies to musical reviews on ice.
As if that wasn't enough, Silverwood is home to Boulder Beach, a huge water park complete with two wave pools, children's and toddler's areas, and an array of waterslides including the high speed Velocity Peak slide and Avalanche Mountain—a slide nearly 200 metres long. Life jackets, tubes, towels and even cabanas are available to borrow and/or rent.
More than one day can easily be spent at Silverwood, especially if you plan to include Boulder Beach in your visit. There is an RV park located adjacent to the park, with 126 full hook-up sites. Campers will receive discounted admission to Silverwood, which is easily accessed via a tunnel that runs beneath the highway.
All that and more
If, after taking in all the sunny beaches and thrilling rides, you've got time and energy, you'll find a ton of other stuff to do in and around Sandpoint. Boating and fishing are popular pastimes, and there are many fishing charters available in the area.
Cyclists and hikers will love Sandpoint's pathway system. It runs from downtown Sandpoint all the way to Dover Bay, a picturesque community some three miles away. Along the way you'll find stunning scenery, and even berries and apples for a mid-hike snack.
For a more cosmopolitan experience, be sure to visit the Pend Oreille Winery, the Laughing Dog Brewery and the Lighthouse cheese factory, all of which are located in Sandpoint and open to visitors.
So, next time you find yourself perusing the map, looking for a vacation destination that is sure to impress the whole family, take a closer look at Northern Idaho.