Road to reconnection
Fran Reisner's photographs reflect the joy and satisfaction of a life connected to nature and its rhythms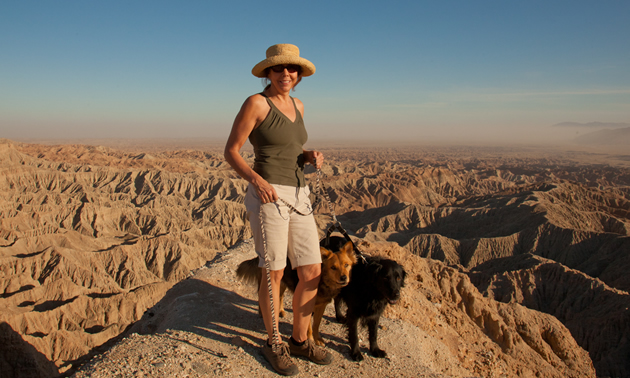 Fran Reisner's home is a 35-foot-long, 12-foot-tall Winnebago—large when it's on the road, but smaller than the master closet in Reisner's 3,200-square-foot former home in Texas. In September 2011 Reisner, a professional photographer, sold her house and most of her possessions and went on the road with her dogs, Jazzy and Sadie.
Reisner has had an ongoing love affair with the natural environment since her childhood, growing up with four brothers in the U.S. Pacific Northwest. In recent years, though, her essential sense of rightness-with-her-world was overshadowed by the demands of a successful career and city living.
At the same time, Reisner felt a growing dissatisfaction with how advances in photographic technology had forced her to change the way she worked. Though some changes were welcome, she was not happy spending increasing amounts of time at her computers and less time behind her cameras and face-to-face with her clients.
Preparing for an adventure
Hungering for a renewed connection with nature and determined to recognize and appreciate the gifts inherent in everyday life and relationships, Reisner made a bold decision.
"Instead of embracing and conforming to these changes," she said, "I'm choosing to embrace my ability to make a change—to find my way back to a life I feel passionate about."
Co-ordinating her lifestyle change with that of her daughter, Elissa, Reisner disposed of her goods and sold her house as Elissa was finishing high school and beginning college.
"I knew there was an adventure ahead, and I was ready, though I didn't know what the adventure would be," Reisner said. "After much pondering I realized I had no reason to be anchored anywhere for now, and many reasons to be mobile, with my dogs. An RV, which I had never dreamed of owning, was the perfect means for doing just that."
Small container, big view
Adjusting to the small living space in the Winnebago was easy for Reisner, but carving out a work space did present a challenge. She has spent the past two years crossing and recrossing the United States—with a couple of side trips into Eastern Canada—taking photos and writing frequent blog posts. She said that in the summer of 2014 she hopes to explore some of Alberta and British Columbia, and may venture into Alaska.
"People seem surprised to see me driving the Winnebago," Reisner said. "It never occurred to me that I couldn't. Our parents didn't differentiate how they raised me versus the boys—I did anything they were doing."
She prefers to camp in national and state parks rather than big-rig RV parks, and she loves being near water. She described her first view of Zion National Park as "absolutely breathtaking and stunning," and said she would love to retake her college geology courses so she could understand more about the rock formations.
"I'm just amazed at the forethought that it took to set aside those lands as national and state parks," Reisner said. "It horrifies me to think what the country might look like if that had not been done—imagine casinos at the base of Half Dome, or cluttering up the Tetons."
Reisner said she has made some strong and lasting friendships during her travels. She finds that the people she meets in the parks are like-minded hikers of trails and kayakers of waterways—as she is.
Seizing the day
It became apparent during our conversation in late November that for Reisner, this dramatic change in her life was as much a need as a want. Far from the scurry-worry of agendas, deadlines, competition and constantly changing technology, her life is soul-satisfying, mostly self-paced and frequently off the grid.
Reisner is grateful for her successful career and the pleasure it still gives her. It allows her to re-establish her connection with the natural world and her sense of rightness with life. It provides her with an income while she travels, and allows her to spend time with friends across the nation and with her daughter at her convenience.
"I didn't start this journey thinking that I would be an inspiration to people," said Reisner. "It's just that you never know if there's going to be a tomorrow, and I think it's important to embrace life and live it fully. I hope that I'm instilling that intention—by example if nothing else—in my daughter."
Reisner's blog, "Journey in Focus," gives an ongoing account of her travels, and the photos she shares are remarkable.