Recreation meets innovation at the Calgary RV Expo
Updated kitchens and compact convenience were on display as record crowds toured the newest RVs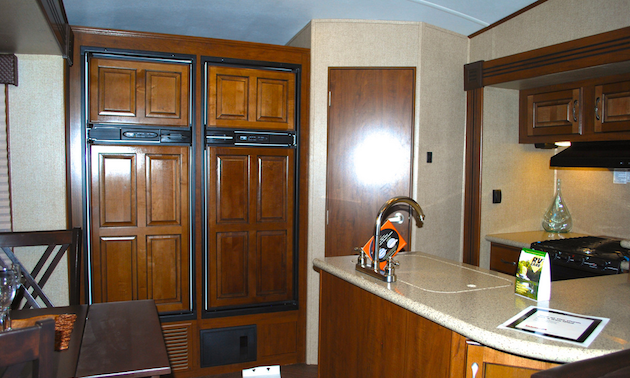 Looks like the sunny skies and warm winter weather in Calgary had folks dreaming of the coming summer. Record-breaking attendance and exceptional sales were reported at this year's RV expo according to Dan Merkowsky, show manager and executive vice president of the RV Dealers Association of Alberta.
"We are very fortunate in Alberta that our economy is strong and consumers appreciate the chance to spend quality time with their family when they purchase an RV," said Merkowsky.
That strong economy, coupled with savvy consumers, brings out the best in the world of recreational vehicles. Dealers and manufacturers have clearly been listening to today's RV buyer. Some of the very latest and greatest innovations were showcased at the expo.
More is better
When it comes to fridges, that is. The new Sundance fifth wheel 3310 MKS has two. While the larger double-door style fridge has been available for some time, the dual fridge floor plan is brand new this year. According to Brad Gude of Heartland RVs, two fridges have more capacity than the double door models and cost significantly less to manufacture. Those savings are, of course, passed on to the consumer.
The 3310 MKS's cleverly-designed kitchen, outfitted with the latest in appliances, makes RV cooking a dream. There really is nothing stopping the modern traveller from making a gourmet meal in a Walmart parking lot. Oh, did I mention the lighted, walk-in pantry?
Family friendly
The new Redhawk class C by Jayco is ideal for families on a budget and first-time RV buyers, according to Paul Sinclair of Bucars. With its rear bunks, it works well for young families and makes sense economically. The class C is perfect for those city dwellers with smaller cars who don't own or need a truck. Sinclair points out that if you consider the price of both a truck and trailer compared to a class C, the motorhome is the hands-down winner.
High style for couples
The 2013 Pursuit by Pleasure-Way is a sleek, compact motorhome loaded with function and great looks. At just 22 feet bumper to bumper, this unique unit is perfect for couples or singles looking for a slick, stylish RV that goes anywhere.
Corian countertops, LED lighting, built in Wi-Fi and high-end décor give this RV a boutique-hotel-on-wheels appeal that is sure to fit well with those who plan to travel in style. And its compact body means you'll never struggle to drive or park this RV.
Long gone are the days of making do with inconvenient, awkward spaces and poorly-designed recreational vehicles. Experienced RVers have spoken and manufacturers have listened. No matter what your needs or desires, the perfect RV is out there. Your local dealer will be happy to go the extra mile to make your next miles the ones you've always dreamed of.