Kit Frost is chasing light and adventure in her RV
Frost moved to Colorado from New Jersey when she retired from teaching art, searching for the "unpeopled" landscape.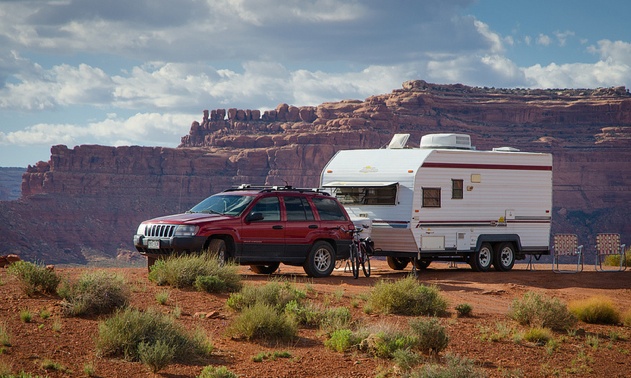 Kit Frost doesn't just seek adventures—she creates them. She loves to head out to the mountains in Utah and in southern Colorado, where she will hit up a trailer park or sometimes enjoy the peace and serenity of boondocking. She can get to national forests and parks in less than two hours where she delves into her favourite pastimes—hiking and photography—but waits for her real passion: storm watching.
"I love the light of storms and the drama of photography in changing weather," Frost said. "I tend to be out there when others don't want to be. I like to stay a couple of days to get an experience of what is going on with the light. I am always happy to see storms and thunder coming, which is way different in a trailer than in a tent."
Off the ground and into the wilderness
Frost bought her 1994 Sunline Saturn in March 2013 and is beyond pleased with its lightweight, full-sized layout and permanent sleeping area. The 18-and-a-half-footer also affords room for guests at the fold-down table and provides enough storage for her full repertoire of photography equipment.
When it came time to purchase a new vehicle Frost kept towing capacity in mind, choosing an eight-cylinder Grand Jeep Cherokee.
"As soon as I did that, everything fell into place," she said. "The trailer was a perfect fit for the vehicle and my needs."
Years ago she had a class C van with a bed over the driving area, but it only lasted about a year because it quickly became a tight fit.
"It didn't meet my needs to be driving somewhere, then camping and biking around," she said. "To really explore a place I wanted to get into the backcountry, level and set up and take off to go chase the light."
Though she still brings her bike every time, the four-wheel-drive Cherokee means almost no adventure is out of bounds. At night Frost returns to a real kitchen and batteries—some of them solar powered—to charge her cameras. Extending the camping season means she can take advantage of early spring and winter, when the weather is sweet and changeable and there are fewer bugs in the desert.
Chasing the dream
Frost moved to Colorado from New Jersey in 1995 when she retired from teaching art, searching for the "unpeopled" landscape.
"I am Sagittarian," she said, "so if you're looking for me, I just left. I came west to see the sky and the weather and cumulous clouds. Land unaffected by people. In the west we have these amazing skies and night skies, and in a sleeping bag, in a chair with binoculars you can see everything."
She's built a thriving photography business, taking people on photographic adventures in the four corners: New Mexico, Utah, Arizona, and Colorado, with an eye on expanding her class offerings as she travels a wider circle. Most of her business is drummed up through repeat students, word of mouth or through her website kitfrost.com
"This year I am particularly attached to catching photos of ancient trees and old growth forests," she said. "I tend to think of things in terms of my lifetime and lots of places I used to hang out in are gone due to development."
Local pleasures
When she stays local, Frost visits Haviland Lake Campground a half hour north of Durango and nearby national forests—Lime Creek, Cascade Creek and Mineral Creek are all perfect for capturing moving water in her photos and teaching students the art of waterfall photography.
"Lakes, streams and reflections rock my world," she said. "I really love be at a place to watch the light and know what time of day I need to be out, and then plan a trip based on that information."
One of her most memorable journeys was to Vallecito Campground in San Juan National Forest, which was situated close enough to the Weminuche trail to provide the ultimate mix of convenience and adventure.
"My campsite was the last just before the trail head, so I backpacked on day hikes and friends came to visit and we sat at the creek," she said. "There was a rainstorm because it was monsoon season and the thunder was right overhead and it was cozy and safe.
"I had my art supplies with me so I was thrilled to be able to paint in the trailer. I had room to breathe and move."
In Utah, the Valley of the Gods is a place she thinks of as heaven.
'It's a gem because there are places with more elbow room, if you know where to look," Frost said. "The red rock formations are beautiful and it's quiet and you pretty much feel like you have the place to yourself."
On the horizon
Planning for the future has become less about permanence and more about the possibility of full-timing.
"I've never seen the Pacific Northwest," she said. "I'd like to spend a month to get there, head straight up from Colorado to Banff and Jasper and then head west to Vancouver, B.C., and Alaska. I'd like to take a year and explore that and meet my students in those locations."
For anyone thinking about the RV lifestyle, Frost recommends some soul-searching.
"What's holding you back?" she asks. "You can go online and read a lot about what people are doing with coaches, trailers, class B and C vans, and see what might fit your lifestyle best.
"I really wanted to be out there," she said. "For me it was so much about being in a place for the night sky, sunset and sunrise, with enough time to get home and say I got the photo. What's it about for you? Where do you want to go?"