A unique little trailer is the perfect fit for a couple who frequently takes road trips to attend dog shows
by Trevor Crawley —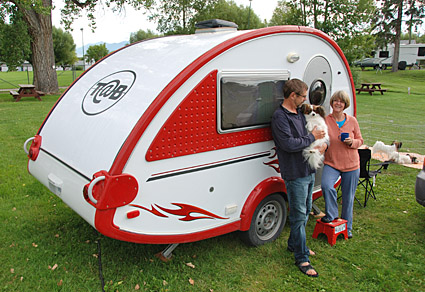 Expect to make a lot of friends with the [email protected] trailer.
A Nanaimo couple took theirs across the northern U.S. to Winnipeg for a dog show and had all kinds of people ask about their teardrop-shaped trailer at each stop, including RVwest.
The interest might have also had something to do with the three cute Papillon dogs they had along with them.
Hailing from Nanaimo, they hit Tacoma, Washington, and travelled along the interstate highway network until they re-crossed the border in Manitoba to attend the specialty show and trial for purebred Papillons.
They stayed in the country coming back, crossing the prairies on their way to the Okanagan and home, then set up in Baker RV Park in Cranbrook, B.C., in early August.
It's the unique teardrop shape of the trailer that attracts the curious onlookers, as people wonder how camping with such a small trailer can be comfortable.
Complete with utilities like a heater, stove, fridge and sink, the trailer has a bed that converts into a booth with a table in the middle, boasting a standing height of 175 centimetres.
"It's like living on a boat," said Henigman. "You've got to be really comfortable in each other's space."
Henigman is frequently on the road attending dog shows with her Papillons—Winky, Blaze and Kirsten, and decided with her husband that tenting was no longer comfortable enough.
Researching around the market, they looked at a Boler trailer, but passed over it for a [email protected] found on eBay in Utah.
The light towing weight and the cooking conveniences were the main reasons the couple liked what they saw.
At the time they bought the [email protected], they had a Honda CRV—but being conscious of fuel economy, they sold it and bought a Subaru Outback—which has no issues pulling the trailer.
To each their own
While Henigman is off doing her dog shows, Trimble has a hobby of his own: flying remote-controlled airplanes.
Since his childhood, he's always been fascinated by airplanes, but he never had a good enough reason to justify getting his pilot's license and went into a career of building trades.
He'd brought along an airplane for the trip, to fly around during down time, and he pulled it out at the park to demonstrate its aerial capability.
"It fulfills the aviation desire and the perpetual kid in me," he joked.
The pizza box flyer is just that—wings shaped like a pizza box made of EPP foam with a "fuselage" down the middle and a propeller on the front. It is an unconventional design that, upon first glance, is dismissed as being incapable of flight.
Yet Trimble fired up the propeller, held the plane in one hand and the controller in the other, and flung the craft forward.
It dipped down at first, but then started to climb, gaining altitude ever so slightly.
After picking up a bit of speed, it became more manoeuvrable—zipping around their campsite, making tighter turns and doing vertical climbs.
Trimble says the materials for building the aircraft are cheap, and with everything together one can be constructed in just a few hours.
The foam is spongy and forgiving should there be any air collisions or crash landings.
"It's simple, fun and a cheap way to fly," he said.