It's hard to keep up with these Joneses
There's never a dull moment for Glyn, Jena and their daughter Haley
by Karen Kornelsen —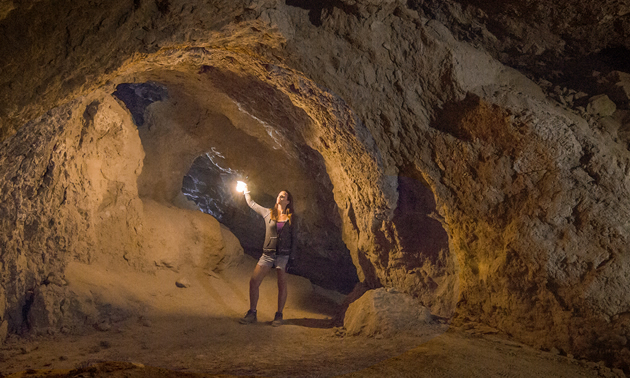 For Jena and Glyn Jones, boondocking with their RV is more than just a way to experience adventure. It's also a way to show their daughter, Haley, the incredible importance of travel. Jena, 35, and her husband Glyn, 50, both share a passion for the outdoors, and through their writing, photography and travel adventures are instilling the same wonder in their 14-year-old daughter.
"We both grew up travelling a lot with our own families," said Jena. "We did a lot of camping and Glyn grew up on a sailboat, so he learned how to sail early on. I also did grew up around boats, and at a young age we were both hit by the travel bug. That carried over into our adult lives, and now we're trying to instil that in Haley. All the memories we have as kids formed who we are today."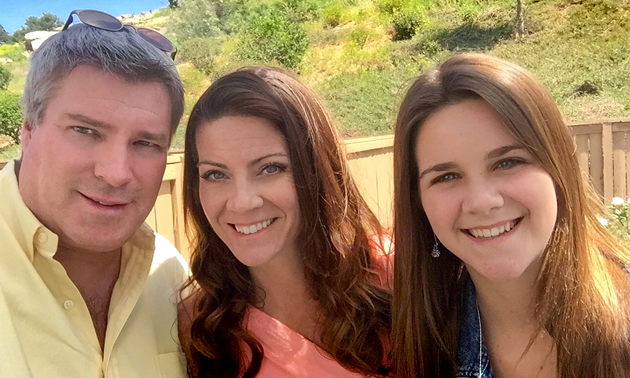 Jena is a property manager and Glyn is a professional commercial photographer in San Diego, California, the family's home town. One of their favourite places to visit is Yuma, Arizona, where they keep a power boat.
"We spent quite a few summers travelling there and staying in hotels," said Jena. "Most people agree that when you're travelling with children you have to eat out all the time and stay in noisy hotels, so it's not always comfortable and the expenses add up. We bought a small RV in 2005 and Haley loved it and so did we."
They bought a brand new RV in March of 2015, a 2015 Keystone Cougar travel trailer with a slide-out. They absolutely love all its features and the extra space the slide-out gives them.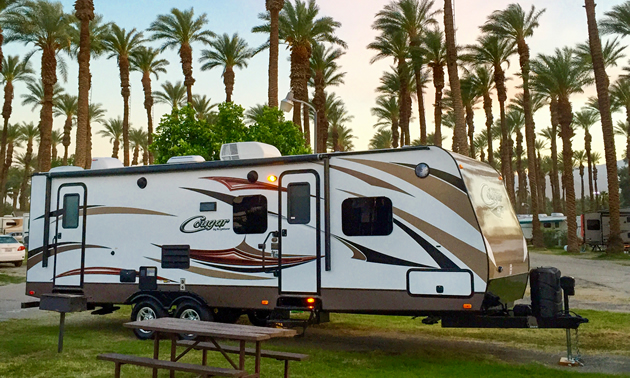 RVing gave the Jones' the freedom to do so many things they hadn't thought about before and the family became really big on boondocking.
"We like to find really remote places where we can hike, explore and discover new things," Jena said. "It really adds to the excitement and adventure."
Besides all the fun, one of the most important aspects of RVing to Jena and Glyn is engaging and teaching Haley. They've been to so many places and learned about so many amazing things, all with a teenager in tow, that their friends started to get really interested in how the couple did it. Jena started doing edu-tourism with her family before they even knew it was a thing.
"When we first started travelling, one of the biggest things that was important to us was exposing Haley to worldly things, different cultures, geography, geology and so on," said Jena. "There are so many things we can teach her by travelling. I started telling my friends what we were doing and how we were doing it, and one of the biggest questions I kept getting asked was, how do you get a teenager to do all these crazy things with you?"
Jena found it was all in how they approached it with their daughter and it involved doing the research.
"A good example and one of our favourite things is there's a dwelling on Ghost Mountain within California's Anza-Borrego Desert State Park," said Jena. "Marshal South decided to take his son, daughter and wife in the 1930s to do some experimental living and build a house on top of a mountain. It was very primitive and they had no contact with other people, no water and no electricity. It is a fascinating story and we went to see it with Haley. The family had chronicled their experience and submitted their stories and photos to local magazines. I was able to find all the articles and photos and look at them with her at the site. It was really fun for her and really engaged her in the whole process."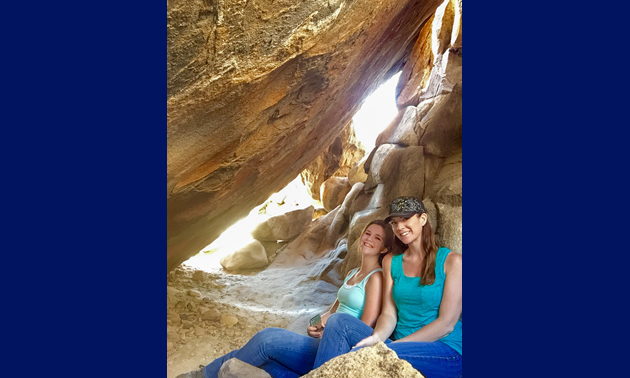 With stories like this, Jena and Glyn's friends got more excited about the idea of Jena sharing these tips with others. The couple has a blog and are now in the process of writing a guidebook to teach people how to get to amazing places, what to talk to your kids about, edu-tourism opportunities and more.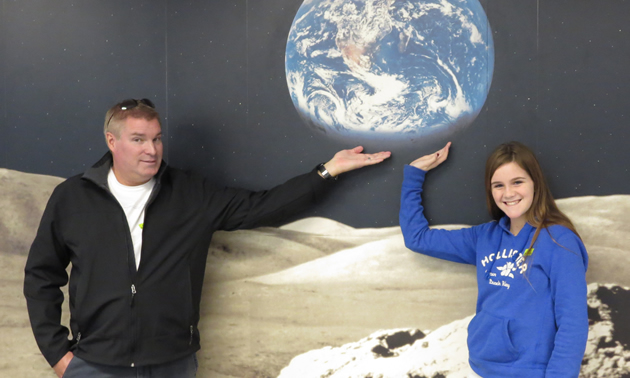 "We want to make it a really easy tool to give to travelling families and for people who want something different than a typical campground or vacation," said Jena. "It's a never a kicking-and-screaming situation when we travel together, it's always something to look forward to. We want to inspire others to go to the same places and have the same opportunities."
Jena, Glyn and Haley have a lot of experiences to draw from. They take their RV out at least once a month. They spend a lot of time in Arizona and even got married on Lake Powell on the border of Arizona and Utah. They've explored the northern part of Arizona to the Utah border and down to the border with Mexico, and have covered a lot of ground in the Anza-Borrego Desert and Death Valley. They rarely visit the same place more than twice.
One of the most memorable trips they've been on was to Tumco, Arizona which is an old ghost town on the border of California and Arizona. They stumbled upon it one day and ended up staying for two weeks spontaneously.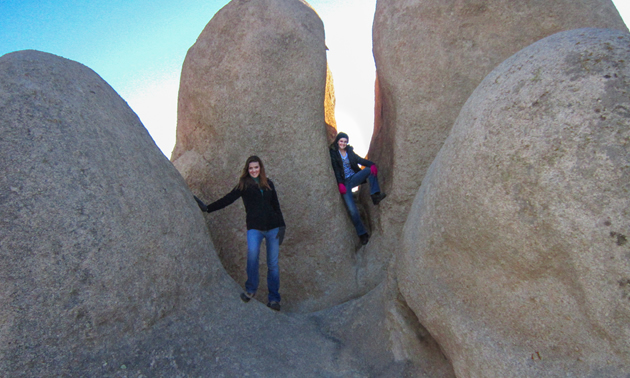 "The way it was found in 1862 was two boys had lost a donkey, went out to find it and discovered gold in the mountains," said Jena. "From 1862 up until the 1980s, there was quite a bit of silver and gold mining. There's now all kinds of partial structures and remnants of mine pits everywhere. It was a really cool adventure we just stumbled upon, and learning the history behind it made it even more fascinating."
The Joneses have also explored caves, mysterious plane crash sites and volcanoes.
"With boondocking, you never know what you're going to find," said Jena. "Like the weird seismic activity in southern California called Mud Pots. They're like mini volcanoes all over the ground that bubble and boil and make weird noises. We really like to discover different things like that."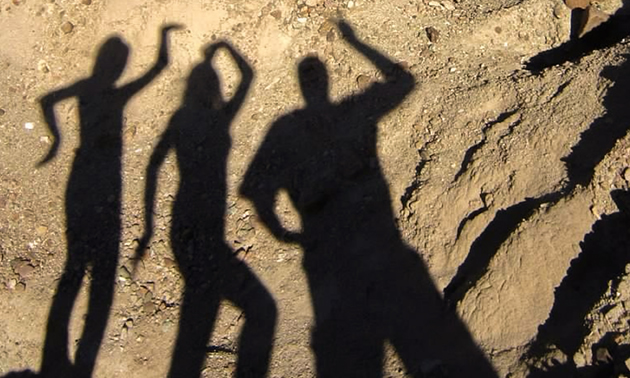 Travelling as a family is important to the Joneses and they hope other families can enjoy the same experiences.
"I hear so many time from friends that either the husband doesn't want to go or the wife didn't want to do this and the kids weren't interested in that," said Jena. "One thing I always tell people is the importance of disconnecting. There's so much focus on TV, internet, social media and work schedules, taking time to go out and travel as a family is really important. I never want to discourage people from using the internet and social media. It's more about how can we use them for good. We want to inspire people to get out of the house, have new experiences and share it with others."
To learn more about the Jones family and their adventures, check out the blog totallytrailer.blogspot.ca.