Travelling Interstate 5 to snowbird destinations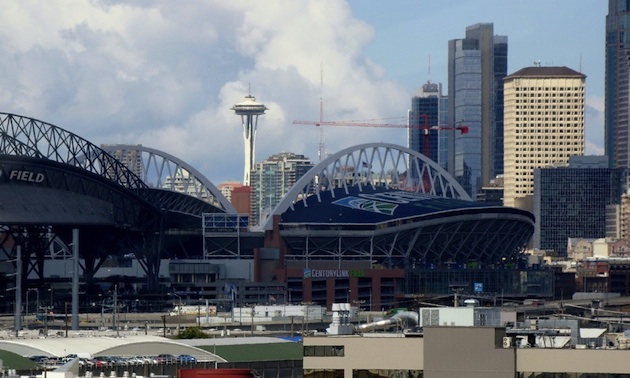 The October rains have arrived on the Wet Coast and thoughts naturally turn to heading south for the winter. From Vancouver, that involves a long RV trip south along Interstate Highway 5. Some snowbirds complain about I-5, but the drive does not have to be boring. My wife and I along with Bogey, our Lhasa Apso, approach this journey as a challenge. This winter will be our eighth trip south, and over the years we have discovered some interesting stops to spice up the journey.
U.S. border crossing
With a 39-foot Dutch Star and pulling a small Suzuki car, we prefer the crossing at Aldergrove. The line-ups are shorter and the lanes wider. Some years border officials have searched our motorhome thoroughly, while in other years it is clear sailing. If in doubt as to what you can take into the U.S., check with American customs before you leave home.
Once you're in Washington state, the next two challenges are getting through Seattle and Portland safely.
Seattle and Portland
The shortest route through these two cities is a straight line, ignoring the bypass. For Seattle, select a Sunday when the Seattle Seahawks are not playing a home game at Safeco Field. In Portland, the very elevated freeway through the heart of the city is generally very busy every day except Sunday.
Casinos
Want to cut the cost of RVing? Boondock at casinos along I-5. There is no shortage of casinos, with or without RV parks. Some of our favorite casinos are Tulalip Resort and Casino in Marysville, Washington; Seven Feathers Casino, Canyonville, Oregon; Rolling Hills Casino, Corning, California; and Tachi Palace Casino in Lemoore, California. These are only a few of the casinos that allow RVers to use their parking lots for the night and also feature excellent buffets—along with numerous ways to lose your money.
Grants Pass through Siskiyou Pass
Every RVer will have some story to tell about the journey from Grants Pass through the Siskiyou Pass in southern Oregon. It is not the elevation of the pass (4,465 feet), but the occasional snow that can cause difficulty. On various trips we have encountered snow storms and road closures—as well as perfect December weather. It really is pot luck.
The good part is that after the Siskiyou or Six Stones Pass, the worst is over. Returning in the spring is seldom a problem. Along the interstate you pass through the Cascade Siskiyou National Monument, Shasta Trinity National Recreation Area and cross over Lake Shasta, all providing beautiful views of the mountains. Love the names of some of the towns, such as Talent, Yreka, Whiskeytown and my favorite: Weed.
Sacramento to Bakersfield
The first objective is to pass through Sacramento and Stockton at midday or during the weekend to avoid heavy traffic. The drive from Stockton to Bakersfield is a fairly boring part of the journey at 235 miles (378 km). The interstate is straight and relatively flat, with good rest areas. If you need to stop, there is a comfortable RV park at Patterson. On the west side of the highway, I-5 parallels the Coastal Mountain Range. To the east is the beautiful San Joaquin Valley, with its cultivated fields and mile after mile of orange trees. There are few facilities along this stretch of the freeway, so gas up at Westley, Patterson, Kettleman City or Lost Hills.
Harris Cattle Ranch
This ranch, started in 1937 by Jack Harris, is the largest cattle ranch in California. They produce 150 million pounds of beef every year from a stock of 100,000 cattle. If you have eaten at In-N-Out Burger, you have had Harris meat. The ranch is located off Exit 334 on Highway 198 east of Coalinga. It is recommended that you visit the well-supplied meat store and fill up your freezer. The ranch has a good restaurant and gift shop and allows snowbirds to spend the night in the parking lot.
Bakersfield and beyond
Bakersfield, California, is the main junction to the south. It is first necessary to cross over from I-5 to Highway 99, using Highway 46 through Wasco. There are two excellent RV parks in Bakersfield: the Bakersfield RV Resort and the Orange Grove. We prefer the Orange Grove, as your site is among orange trees and patrons are allowed to pick the fruit.
To the south, Los Angeles is only 112 miles (180 km) over "the Grapevine." If you turn east on Highway 58, you climb the Tehachapi Pass and find yourself in the Mojave Desert. This barren landscape stretches 272 miles (437 km) to Needles, California, which is not far from the warm weather of Lake Havasu, Arizona. Turn south at Barstow and Palm Springs is only a few hours away.
For snowbirds, where you spend the winter is your choice. The most popular areas seem to be Yuma, Casa Grande, Lake Havasu City/Parker, Tucson, Mesa, Palm Springs and Apache Junction. We enjoy Tucson, but regardless of where you winter, remember it will be necessary to return home on I-5. So you might as well relax and enjoy the trip.