For cozy camping in Canada, you need this new product
The Toasty Tush chair cover makes nights around the campfire more fun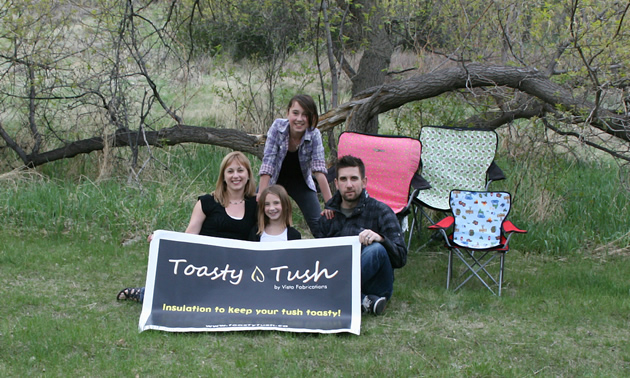 In the heartbeat it took for a car to sideswipe her as she loaded groceries into her car, Laurie Mullin's life was forever changed. Today, nearly two years later, Mullin is starting to believe that perhaps everything does indeed happen for a reason.
Mullin has been an avid camper since she was a child, and remembers one snowy May long weekend as family and friends gathered around the campfire a friend who worked on the pipeline offered them all a piece of insulation to keep them warm as they sat.
"It was awesome," said Mullin. "They kept us nice and warm and we used those little pieces of cut insulation for about two years."
The summer following her accident, unable to return to her work as an optician due to the nerve damage she suffered, Mullen and her family did a lot of camping and used their little pieces of insulation to stay warm almost constantly.
"The only problem was," said Mullin, "every time you'd get up from your chair they'd blow off or fall down, and I thought, "you know, I bet I could make a cover for this that would hold it on to the chair." That's when the idea for Toasty Tush was born.
At first friends started asking for their own chair covers, and then friends of friends, until Mullin and her husband Scott realized that they might be on to something. They put up a website to allow people to order the product online, but it would be months before Mullin finally took the business to the next level.
Keeping campers cozy
The near-constant pain from her accident that took its toll on Mullin both physically and mentally. She found herself in a state of limbo, not really knowing what direction she should take the product or even if she should pursue the idea at all. Her husband Scott finallyl gave her the push she needed to pick up the pieces of her business and her life and start again.
"He just looked at me one day and said 'what are you doing with this business?' and when I told him I didn't really think it would amount to much he just straight out told me 'I don't believe that, I believe that you can make something of this. You just need to get up and do it.' "
And so she did. Mullin pursued a patent and trademark that are now officially recognized. She described the Toasty Tush as an insulated camp chair cover lined with aluminum insulation that adiates your body's own natural heat back at you. Designed to fit most recreation chairs, the product offers complete coverage from the back of a user's shoulders all the way down to the backs of their thighs. It fits snugly over the back of a chair to eliminate the need for straps or ties. It can be easily rolled up and secured with the attached elastics to make it easy to store or take along, and comes in a variety of different covers and patterns. The Toasty Tush is made from a combination of cotton and polyeste and is machine washable.
Mullin's next step in her business plan is to align herself with a major retailer and look for a manufacturer that could meet the ever-rising demand in higher volume. But don't look for Mullin to be completely hands-off when the time comes to turn over production.
"I want to be the one that hand-makes the customized ones," said Mullin. "So orders that come in through our website that are looking for a particular pattern or fabric will be ones I make myself."
Try it and you'll buy it
To date, the biggest obstacle in Mullin's way has been simply "getting people's butts into them."
"Once you try it, you'll buy it," said Mullin with confidence. "I just need to figure out a way to get people to try them out in the first place so they can realize how much more comfortable they could be sitting around the fire."
Keep an eye out for Mullin and her family at a campground near you, for as they head out with their family and friends to make their normal rounds of camping this summer they'll also be giving a few lucky campers the chance to try the Toasty Tush.
"This summer as we camp we're just going to walk around, meet some people and say here, try these for a night, and let us know if you like them. We're betting it will be a fight to get them back."
Nearly two years have passed from that fateful day which changed her future irrevocably, but Mullin has decided to start looking forward not back.
"I have always believed that things happen for a reason. Sometimes it just takes a while to figure out why. With a leap of faith and a lot of hard work I believe we can make this dream a reality."