A free and frugal life on the road
Derek and Teresa Wood are full-time RVers who make the lifestyle pay for itself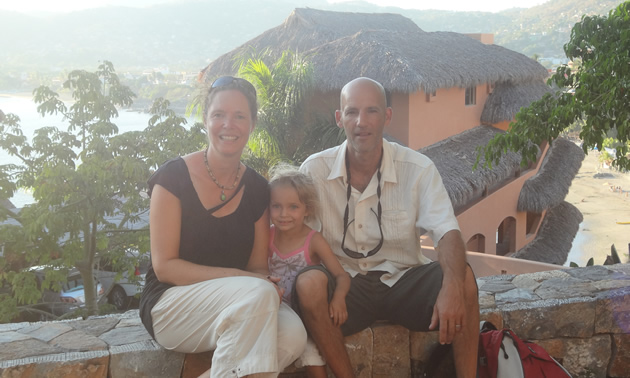 Most full-time RVers are over the age of 55, and they choose the lifestyle after years of schedule keeping, mortgage paying and child rearing. Not so Derek and Teresa Wood, entrepreneurs who have been full-time RVers for five years.
Teresa has a master's degree in architecture, and Derek has a background in landscaping and horticulture. The two met on Vancouver Island, and in their first 10 years together, they started and ended three businesses and bought and sold five properties.
Derek is 49 and Teresa is 44. They have been married for 12 years and travel with two five-year-olds: their daughter, Cassia, and dog, a husky named Rufus. This family's RV is not just for recreation, and it's certainly not a typical showroom model. They drive and live out of a converted 1990 Ford Econoline van, and pull a 2014 cargo trailer.
Budgeting for choices
The Woods spend their winters in Mexico and the southern U.S., and their summers—from May through October—employed as park facility operators (PFOs) in B.C. provincial parks. Their average annual earnings are $22,000. After earmarking $900 for family health insurance and approximately $3,000 for fuel for their winter travels, they budget the remaining $18,000 to cover their living expenses for 12 months. Teresa said they make sure they have about $3,000 left when they return to Canada in the spring, to cover their costs until they receive their first paycheque.
"We aren't cheap," Teresa said, "we're frugal. We choose to spend our money on travel to a warm climate, (and indulge in) good food and craft beer, over things like expensive clothes, gadgets and souvenirs."
As much as possible, the Woods stay connected to family and friends via the Internet. They travel with a MacBook Pro, iPad, camera and two portable DVD players. Teresa writes a blog that describes their life—and it's a busy one, at least in the summer.
The work and its perks
"The position of PFO for BC Parks is challenging work at times, but not what I would label hard," said Teresa. "It is very physical—cleaning sites and pit toilets and hauling garbage. However, it is a good workout for us; it keeps us in shape. This is a multi-faceted position involving janitorial, landscaping, cleaning, security, accounting, customer relations, tourism, handyman, etc. Now, in our fifth year managing a park, we have seen and heard almost everything."
Teresa said that the best thing about their chosen lifestyle is the freedom it allows them—freedom from imposed schedules and imposed financial values, and freedom to raise their daughter together every day.
"As well as visiting some very beautiful areas and sampling some great food and craft beer, we meet some seriously interesting, gracious, friendly, generous, sincere people," Teresa said. "We have had some of the best conversations in laundromats, grocery store lineups and gas stations."
The family is spending the 2014 summer at Kentucky Alleyne Provincial Park, 38 kilometres south of Merritt, B.C. There's no Internet available there, no cellphone coverage and no radio signal. Teresa said that after seven months spent travelling and rubbing shoulders with the world during the winter, they are enjoying the relative solitude of the park. They generally make a weekly trip to Merritt or Kelowna for groceries and an Internet fix.
Forming a world view
"We feel that Cassia is getting a wealth of knowledge and experience living this lifestyle," said Teresa. "Will she agree when she is older—who knows? It is something that I think about and struggle with. Derek and I enjoy history and geography and so will stop to learn at the various sites along the way. Spending her summers in a provincial park, Cassia learns about our natural surroundings and the importance of respecting the land and animals, but also the practical things—working to make money and the responsibilities of having a job.
"Although we now see ourselves continuing this lifestyle for the next 10 years or so, if there is a time that it isn't working for us, or for Cassia, we will make another plan."