Driving California highway 49, the golden chain
Feel like a 49er as you visit the well-kept towns that were central to the California gold rush
by Denis Begin —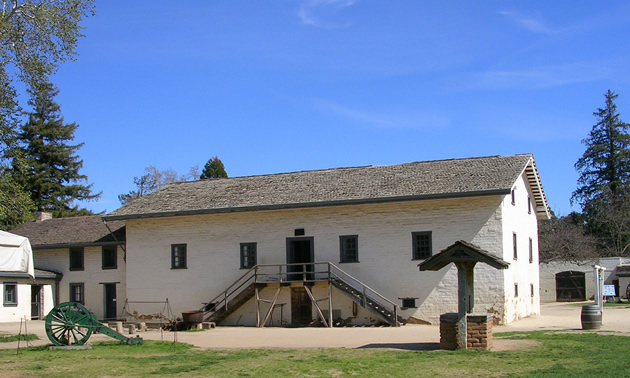 My initial knowledge of the California Gold Rush of 1849 came as a small boy following the San Francisco 49ers football team. As a student of history, my knowledge was broadened when I learned about the 1861 Cariboo gold rush in Barkerville, British Columbia, and the Klondike gold rush of 1898 in the Yukon. The 1849 gold rush in California, however, was the largest, with two billion dollars coming out of the Gold Country. Having learned to gold pan many years ago, I know wanted to find the mother lode. I had gold fever.
California State Route 49 cuts through Gold Country. The highway is 300 miles long north to south, but only half that distance involves the major towns. The highway meanders through a myriad of mining towns with place names like Chinese Camp, Sonora, Columbia, Angels Camp, Murphys, Jackson, El Dorado, Sutter Creek, Plymouth, Placerville and Coloma, just to name a few. In looking at a Gold Country Map, there are a total of 80 towns listed.
The placer gold, which means surface gold, is located on the western foothills of the Sierra Nevada mountains between Lake Tahoe and Yosemite National Park. The mining camps of 1849 were connected by trails, which became Highway 49 or the Golden Chain. This highway has only two lanes, is narrow in places, has many hairpin turns and is a slow but scenic drive up and down the hills.
So what is the Gold Country like? To describe every small town is impossible. The best collective adjectives for these old mining towns are rustic, historical, tranquil and quaint, as each displays its gold rush heritage in its own unique way. In addition, there are bed and breakfast places, museums, gift shops, boutiques, mine tours, caverns, art galleries, wineries, restaurants, antiques stores, golf courses and RV camping locations. Many of the historical towns appear to be movie sets rather than functional towns. The many visitor centres provide maps, pamphlets and walking tours of their historical sections. The best RV parks are the 49er RV Ranch in Columbia and 49er Village in Plymouth. If you're driving from Placerville to Coloma, larger motorhomes are not recommended.
So what are the highlights of Highway 49?
1. Columbia
Columbia is unique because the town is a State Historical Park and has been declared twice an Honorary State Capital. California has seen fit to preserve the authenticity of this gold town, now called the Gem of the Southern Mines. After the town burned to the ground, replacement buildings were built of red brick, giving the town a rustic appearance. Columbia and British Columbia have a connection in William Alexander Smith, a photographer from this California town. William A. Smith or Amor de Cosmos (lover of the universe) went on to become the controversial second premier of British Columbia.
2. Angels Camp
Angels Camp was started by Henry Angel in 1848 when he opened a trading post. Samuel Clemons or Mark Twain spent 88 days in various bars in Angels Camp and heard about a bullfrog that could jump amazing distances. At a friend's cabin near town he wrote his first successful short story, titled The Celebrated Jumping Frog of Calaveras County. The story put Angels Camp on the map and Mark Twain became famous. Angels Camp or Frogtown has since 1893 continued its annual frog jumping contest every May.
3. Murphys
Murphys is a quaint little town founded by two Irish brothers in 1848 and called Queen of the Sierra. The town has been called one of the top ten coolest small towns in America. The two Murphy brothers made two million dollars in mining and established a trading post, realizing that "merchants mine the miners." Wine is also important in Gold Country, and the Ironstone Winery located nearby. In the winery museum, the largest crystalline gold leaf specimen in the world is on display, weighing 44 pounds and made of 98 per cent pure gold.
4. Sutter Creek
Sutter Creek is a must visit. It has been voted one of the top 10 best places to vacation and the best town in California's Gold Country. Founded in 1844 by John Sutter, the town's original settlers came for the lumber but left with gold from three mines. As the mines prospered so did the town, with Main Street a collection of Western, Victorian, New England and Greek Revival buildings. The buildings on Main Street have changed little from the time of the gold rush, with beautiful architecture remaining. A famous resident of Sutter Creek was Leland Stanford, who was involved in the first transcontinental railroad and went on to be a governor, senator and founder of Stanford University.
5. Coloma
Coloma and the State Historic Park is our last place to visit, seven miles north of Placerville. The California gold rush began on January 24, 1848, when James Marshall, who was building a sawmill for John Sutter, discovered gold by accident. Coloma is 45 miles (78 km) east of Sacramento on the south fork of the American River. The Miwok Indians called the valley Cullumah, meaning river people. John Sutter wanted to keep the gold discovery quiet, realizing a gold rush would destroy his agricultural empire built around Fort Sutter, now Sacramento. His fears proved correct as workers left his employment and squatters moved on to his land, destroying his crops, stealing his cattle and putting him into bankruptcy. Over 100,000 gold miners or 49ers arrived from around the world in the hope of becoming rich.
One other individual needs to be mentioned when dealing with the 1849 gold rush, although he has nothing to do with John Sutter. Levi Strauss was a merchants who sold canvas tents and other gold mining equipment in San Francisco. Using a lighter canvas material called denim he created very durable pants for the miners. These pants became known as Levis blue jeans and are still produced by Levi Strauss & Company.
After five days, my wife and I left the Gold Country knowing that we only scratched the surface. Many activities have been left for a future visit. We did not see the Moaning and the Mercer Caverns, hike to the natural bridges, go on a hard rock mine tour, explore small towns such as Amador City, visit many of the museums, go to the Preston Castle, play enough of the local golf courses or do sufficient wine tasting. As for discovering the mother lode: next time.