Dig in to Dinosaur Provincial Park
Dinosaur Provincial Park was declared a UNESCO World Heritage Site in 1979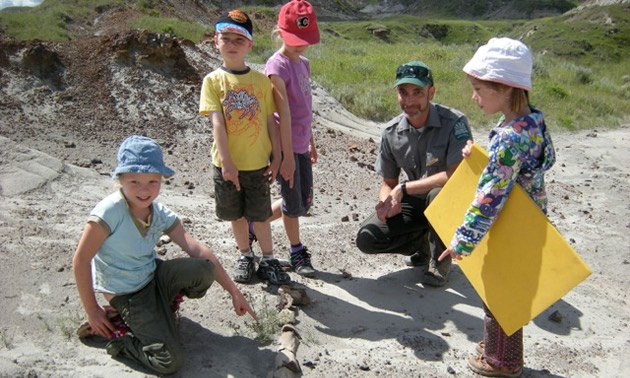 About 75 million years ago, the area that is now Dinosaur Provincial Park was a subtropical seaside oasis that was home to more than 30 species of dinosaurs. Today it is the final resting place of one of the world's most famous collections of fossils.
If you haven't been to Dinosaur Provincial Park yet, put it on your list. The park offers unique and stunning scenery, great camping and over a dozen interpretive programs designed to educate and entertain visitors of all ages.
The park is located two and a half hours southeast of Calgary, close to the town of Brooks, Alberta, and is open year-round. First established in 1955, Dinosaur Provincial Park was declared a UNESCO World Heritage Site in 1979 because of the incredible quality and number of fossil specimens found here.
As you approach the park entrance, the prairies drop away before your eyes, revealing a stunning river valley flanked by hoodoos and prehistoric rock formations. The campground is set in the bowl of the valley, along the banks of the Red Deer River. You'll find 124 sites here, nestled among the cottonwoods.
A store, snack bar and showers are located nearby, and a short distance beyond there is the visitor centre. This is the heart of the park, where guests can check out exhibits, chat with park staff, register for programs and gather for excursions.
Dinosaur Provincial Park has a multitude of amazing programs suitable for all ages, interests and abilities. Many areas of the park are part of a natural preserve and can only be visited as part of a guided tour. It is well worth it to take part in at least one of these tours. You'll be granted what is basically a backstage pass to some of the most fascinating places in the park.
We started our first day with the Fossil Safari Tour. The safari is great for both parents and kids. The group meets at the visitor centre and boards a bus for a short ride to an otherwise off-limits area. An easy hike brings visitors to a bone bed, a place where many dinosaurs died and left behind a wealth of fossils.
Our tour guide gave us guidebooks, kneeling mats and an introductory lesson on fossil finding: basically, how tell a fossil from a rock. It is surprisingly easy once you know what to look for.
Within minutes we had broken into small, crouching groups, scouring the earth for fossils. Soon cries of "I think I found one," rang out through the hoodoos and we were calling over our guide for confirmation. Much to everyone's delight, we really were finding fossils, and lots of them. We found bits of bone, teeth, and--a real highlight for the kids--some prehistoric crocodile poop!
The Fossil Safari was an excellent way to start our vacation. Armed with what we learned there, we found many more fossils during our stay that would have otherwise gone unnoticed by our untrained eyes.
While the Fossil Safari is geared toward families, there are programs specifically for kids and others intended for adults.
Our two eight-year old campers decided to join the Dinosaur Day Camp designed for seven- to 12-year-olds. The kids went off to explore the park and do some discovering at the field station with park staff for a few hours. They brought home their own field guides and lots of stories.
The younger kids stayed back at the visitor center for a program called Paleo-Puzzlers. We used microscopes to examine fossils and looked for clues to solve the puzzle of the dinosaurs and their demise.
There are a number of programs that cater to adults as well. For example, the two-hour Sunset Tour is perfect for those looking to bask in the quiet beauty of the area while getting some stunning photographs in the evening light.
Those looking for something a little more adventurous can take part in guided excavations lasting one to three days. Led by experienced paleontological technicians, participants take part in an authentic dinosaur dig and contribute to the research being done at the park.
There is plenty to do on one's own as well. The park has five self-guided interpretive hiking trails for visitors to explore, complete with fossil displays. Those looking for a bit of relaxation can float down the river on their rafts or canoes. At the end of a busy day, be sure to catch the evening's entertainment at the amphitheatre.
Seventy-five million years of history is yours to discover at Dinosaur Provincial Park. If you are lucky, you might find yourself rubbing elbows with some of the world-renowned paleontologists who converge here every year. At the very least, you'll take home some amazing memories and a lot more dino know-how than you came with.