Chief cook and blogging writer
Bob and Karen Cook have a love for family, friends and adventure—it's no wonder they're drawn to the RVing lifestyle
by by Glynis Fediuk —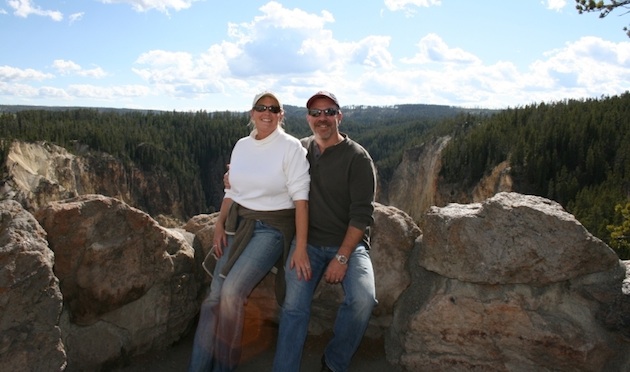 Bob and Karen Cook are a busy pair. Bob is the president of Innovative Logistics, a company that manages the shipping and handling of freight. Karen is the communications director for Cornerstone Systems, a transportation business. They have two sons, John and Ray, aged 11 and 17. They are in the process of relocating from their current home in Memphis, Tennessee, to Seattle, Washington. And despite all this, they still try hard to reach their target of two RV trips per month.
"It's a challenge, so we don't always make the goal," said Karen, "but we try to go twice, whether it's a weekend trip or a week-long trip. We're constantly trying to be out in it. We just got back from trout fishing on the Little Red River, Arkansas. It was just a weekend trip but it was so much fun."
Welcome to the RV family
The Cooks first owned a Class C RV bequeathed to them by Karen's father. They soon found, however, that this RV was too small for their family which, in addition to their sons, also included several dogs. Over the past two years they have purchased two RVs; first, an '09 Holiday Rambler Neptune in 2010, before switching to a 2011 Fleetwood Discovery this past May.
The first big voyage the Cooks took in the Neptune was a trek from Memphis to Seattle with stops in Yellowstone, Mount Rushmore, Crazy Horse and the Devil's Tower. The trip was not without potholes; the RV broke down and had to be towed to Spokane, Washington. Despite these road bumps, though, the Cooks found a bright spot in the friendliness of the RVing community.
"The one thing that we've learned is that everyone associated with RVing and camping are the best people," said Karen. "Everybody just takes care of each other—it's this big fellowship and so even when we got stuck, everybody was just so nice. We ended up camping in the parking lot—everybody that was getting serviced was conversing with everyone else—hobnobbing, sharing stories. It was a lot of fun."
Bob had RVed in his youth with his family, but the experience was new to Karen.
"Everything was new to me—it was all an adventure," said Karen. "I think that's why I started writing about it."
Telling tales
And write she did. Karen's blog, RV Adventures, recently celebrated its first anniversary and has gained a loyal following. The Cooks are active on several social media sites; in addition to their blog, they have Facebook and Twitter accounts where their readers can keep up with the Cooks' adventures. Though Karen said she was at first reluctant to enter the world of social media, she now says that she and Bob have made many lifelong friends through their online communications.
While Karen does the writing, Bob deals with the more technical side of RVing—the driving and maintenance of the vehicle. He also does the vast majority of the cooking on the road, whipping up everything from lobster to bacon-wrapped scallops. Many of the recipes on RV Adventures are, in fact, Bob's own creations.
The Cooks want to show their kids the country, and thus far they have done an impressive job of introducing them to the many splendours of America, having travelled everywhere from New Orleans to Yellowstone. The latter, said Bob, was one of the most memorable places they have been to, and the Cooks hope to one day return. For now, though, Florida beckons.
"Key West is the next big one that we want to do," said Karen. "We've checked off everything from the Grand Canyon to Yellowstone to Yosemite to Mount Rushmore and the Sequoias, but Key West is a big one that is still on our bucket list."
The Cooks may overnight in a luxury campground—or pull over into a Wal-Mart parking lot. Sometimes their sons come along, and sometimes not. Some trips are more spontaneous, while others, such as Bob's annual father-son trip with Ray and John, require more planning. Their destinations may be relaxing places to connect with nature—the family loves recreational activities like fishing and backpacking—or busier locations that draw the tourists. Wherever they go, though, their love of RVing reflects their life's philosophy.
"We just want to have a work hard-play hard outlook in life," said Karen.