Baja Amigos: five favourite beaches
The RV caravan company lists the best stops in its guided tours along the popular Baja peninsula.
by Dan and Lisa Goy —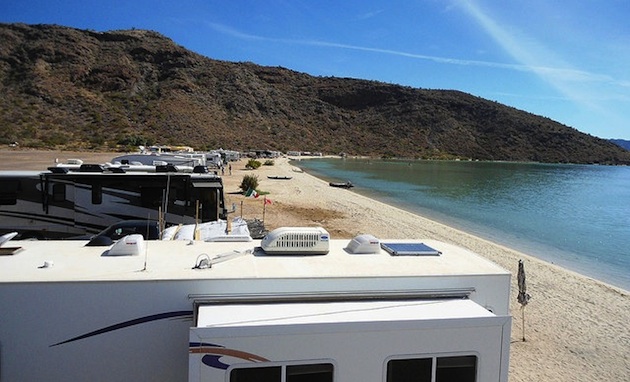 Baja California is a truly unique paradise in the sun dominated by a 2,000 mile coastline that provides access to spectacular beach camping. Yes, these opportunities have diminished since our first adventure in 1985. However, they still exist and some are still free.
Baja, which means lower in Spanish, is a magnificent peninsula separated from Mexico's mainland by the Gulf of California—often referred to as the Sea of Cortez—and comprised of two Mexican states, Baja California (North), and Baja California Sur (South).
With the Pacific on the west side, Baja is one of the greatest ocean playgrounds you can imagine. Add the contrasting shorelines, deserts, mountains and plains dancing with spiny botanical oddities and criss-crossed by roads and you have a very special place. RVers craving outdoor adventures will find a largely undeveloped, beautiful land where escape to another environment and culture is only a couple of days' drive from places like Yuma, El Centro or Palm Springs.
Although much of it remains inaccessible except by boat, the popularity of Baja continues to grow—particularly since the Mexico 1 Highway was completed in 1973, leading to unparalleled camping opportunities. Our tours include many beach stops, including some we visited almost 30 years ago. Our five favourite camping beaches on the tour are:
Brisa Marina RV Park
This is where we fell hook, line and sinker for Mexico. Located in Bahia de Los Angeles on the Sea of Cortez, this is one of the few campgrounds that RVers identify as a winter destination in the northern state. Given the unique geography, ocean currents and wind patterns, L.A. Bay (as it is known) can often have daily highs regularly seen in Bahia Concepcion 250 kilometres further south.
When it was first built shortly after the highway was completed, Brisa Marina was a full service RV park. At that time the Mexican government funded many of these campgrounds across Baja that included all the bells and whistles such as generated power, laundry facilities and all the amenities at each pull-through pad. Sadly, these were only in operation for a few years and have long since been either abandoned or remain open with no services—except, amazingly, the dump stations still work.
This is where we first met Antonio Resendiz, who at the time was three years into his sea turtle project. We visited his family at Christmas that year and have remained good friends all these years.
Although swimming is good in October and into November, the beach is quite rocky at low tide; hence, kayaking and fishing are the preferred activities. Sea lions, dolphins and whales are a common sight, as are whale sharks in October and early November.
The drive from Mex 1 to Bahia de Los Angeles is incredibly scenic, with little traffic. In the final leg as the bay is revealed is nothing short of spectacular. Sunrises are equally stunning and the long beach walks out to the lighthouse are serene. Park at a pull-through pad and someone will be along to collect $5 U.S. All proceeds go to the local school.
There are alternatives to Brisa Marina. Daggett's down the road does provide washrooms and showers, while La Gringa is at the far north end of the beach and much more remote.
Playa Santispac
Crowds of RVers are drawn in by Santispac's convenient location, right off Mex 1 and the closest to Mulegé of 12 beaches in Bahia Concepcion occupied by RVers. The beach and bay, surrounded by steep hillsides and mangroves, remains incredibly popular. In 2014 we counted almost 50 RVs on this beach in February. Although it can feel a bit like a parking lot, with the hard-packed sand behind the motor homes as hard as asphalt, your RV is 25 feet from water's edge and the very shallow and protected bay is often swimmable, even in January.
Kayaking, stand-up paddle boarding, swimming and fishing are routine on this beach. Another draw is a couple of restaurants: Santispak and Anna's. This past season, with some changes in personnel, Santispak is by far the most popular. Their margaritas served up at happy hour are wicked. Vendors visit this beach daily, and not only with blankets and t-shirts. Great local produce, fresh seafood, water, pizza, cinnamon buns, pineapple empanadas and great freshly made chicken tamales are just some of the items you can purchase. Local tour guides are around to take you fishing, clamming, or just to see the sites from the water or on land. We are always up for the sunrise and often have a fire after dark. How good is that for $6 a day?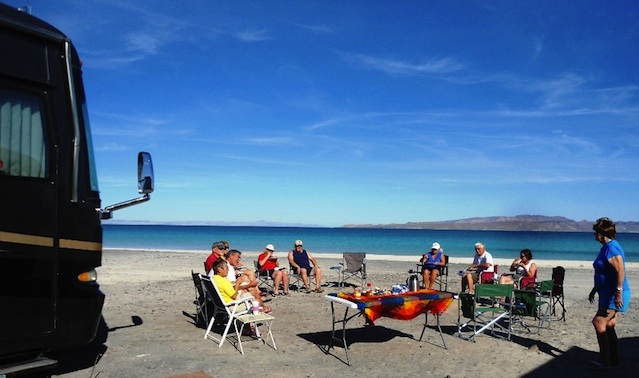 Playa Tecolote
Believe it or not, this beach is still free. Just 20 minutes from La Paz, the capital city of Baja California Sur, this is one of our favourites for sure. Those RVers settling in for the winter head over to the east side; those like us dropping in for a short stay park on the front of the beach, right near the restaurants. No worries about driving on the beach with any size RV—just stay on the packed-down roadway and stay out of the soft sand. We always carry a couple of tow ropes, just in case.
Remember to leave enough room between you and the beach, as lots of locals still come here in the winter when the wind is down and the days are hot. The water here is a spectacular Mediterranean blue, and there's a wonderful beach terrific for swimming. The days are warm and the nights are cool and simply perfect for camping. Again, the SUP and kayak are very popular and lots of RVers are here for the fishing; yellowtail is a prized catch. Weekends sometimes can be busy, with lots of families and young folks at the municipal palapas (umbrella) playing their favourite version of Jose Accordiano. This is the perfect opportunity to sit back and enjoy the cultural immersion.
From your RV you are looking directly at Isla Espíritu Santo, an island in the Sea of Cortez six kilometres away and clearly visible in the distance. It is connected to Isla Partida by a narrow isthmus. You should note that Isla Partida has been voted the most beautiful beach in Mexico by Travel Magazine and is one of the top 12 beaches in the world. Not surprisingly, the area is protected under UNESCO as a biosphere, and its importance as an eco-tourism destination is the main factor. The islands are both uninhabited; however, you can hire a panga to cross the channel. Many of those on tour have taken a tour right off the beach to swim with the sea lions.
Fidel's
The actual name of this campground is Fidel's El Pabellon Palapas Alvinos. It is bordered by two other RV parks; however, we are partial to Fidel's. This is located right on the Pacific Ocean south of Lazaro Cardenas, about a one kilometre drive (watch out if it has been raining) from Mexico 1. The beach is Day 2 of our tour, miles long, and can be a little cool and windy, but you are sure to enjoy the ocean air and spectacular sunsets. Fidel normally has plenty of firewood, good washrooms, with hot (sometimes) showers and also a dump station which is almost impossible to use. There is access to water hook-ups and some 20-amp, 120-volt electrical outlets, which cost a little extra. No worries about parking; often we are the only ones there, though there is beachfront for 50.
The landscape of this park can change dramatically because of heavy rains, high tides and storm surge in the winter. This area of Baja is known for farming, fishing and miles of sand dunes and ocean. There are many other campgrounds and RV parks on or near the ocean in this region. We are really partial to Fidel because he lives on site, we have an unobstructed view of the beach and ocean, and Fidel himself is always glad to see us and help out whenever asked. This is our first serious beach stop at $10 a day. From time to time locals will drop by with fresh fish, clams or lobster, which are all good. Watch out for the mussels, though.
Playa Los Cerritos
Historically Los Cerritos has always been very popular with RVers. It is located off Highway 19 south of Todos Santos and north of Cabo San Lucas, truly in the tropics. Up until about 10 years ago, RVers en masse stayed at the abandoned government RV park (similar to Brisa Marina). Then development moved in, which closed access to the old campground and eventually pushed everyone off the beach unless you purchased a lot.
People have always flocked to this beach for the swimming, surfing, boogie boarding, whale watching (yes, you often see them playing) and fabulous sunsets. With the new four-lane highway, Todos Santos is an easy 15 minutes away and Cabo only a 45-minute drive.
At the end of the 2012/2013 season the Los Cerritos Surf Colony opened up an RV park, which is really just a dirt parking lot with a few palm trees that almost look alive. As of January 2014 our tours made regular stops here, which folks have really enjoyed because we have access to the pool, hot tubs, washrooms, WiFi, bar and restaurant. Having said that, the place is definitely pricey for Baja. It started at $20 per night, and when we first arrived there were about 25 RVs on site. On our February tour we were puzzled to find only one RV at the park. We soon found out the park fee had increased by 50 per cent to $30 per day, which caused the RVers to promptly vacate. In March the price had dropped back to $20, although our other tour group which arrived two days later was charged $30. We have since emailed the Surf Colony for clarification.
There are many beaches on Baja that we are sure you will love. These ones are easily accessible for any size RV, with lots of room to manoeuvre. As always, solar power is preferred over generators—although we see a mix of both on Baja beaches. Dry camping is not for everyone, but for those who give it a try it is well worth the effort.