A luxurious alternative to a tiny, expensive apartment in Vancouver
Will full-time RV living become a mainstream lifestyle choice?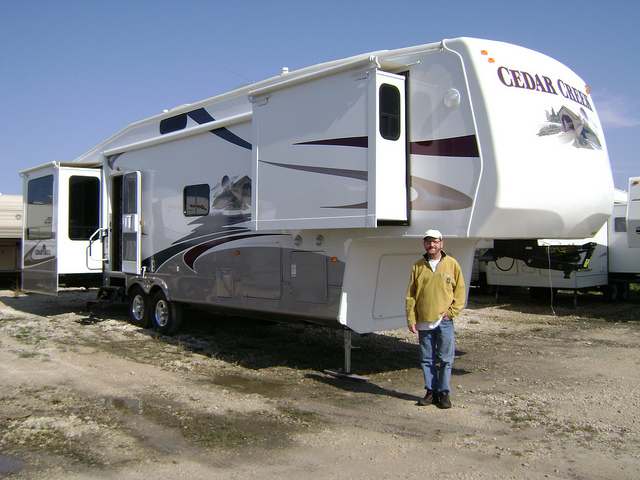 It's no secret that British Columbia's Lower Mainland has an extremely high cost of living, with sky-high rent and real estate prices. For full-time RVer Ron Hollingshead, however, an affordable address in the heart of the city does not have to mean a choice between cost and comfort.
Now a four-and-a-half year resident of the Capilano RV Park in North Vancouver, Hollingshead moved from Winnipeg to the Lower Mainland for a new job. Before his move, he said, he was wary of the high costs and relatively low returns of apartment living in the area.
"I went and looked at condos for sale in the West End and all over," he said. "They were pretty small and had no outdoor space. If you wanted to have a decent condo with any kind of square footage, you'd be paying $600,000."
The RV alternative
With the need for an alternative in mind, he took an interest in conversations he had with RVers while still working in Winnipeg.
"There were lots of people RVing that had come into the hospital I was working at… that's when I first got my interest," he said. "I was chatting with them, and they were telling me that they had RVs and they were going south and everything.
"I knew that I'd have to rent something [in Vancouver] so I thought, if I'm going to retire in a few years I might as well be paying towards it, and with an RV I can buy something of my own that's portable that I can take with me when I retire."
The choice of a beautiful new RV
He started shopping around and decided on an $80,000 Cedar Creek 36RD5S.
"I looked at a lot of [RVs] and they do vary," he said. "You can buy more inexpensive ones, and you can buy expensive ones like this. With this one I have more space. This is 40 feet long, it has what they call five slides and 11-foot ceilings. When you see this kind of height you don't feel claustrophobic. It has a standard fridge like you would have in an apartment and basement storage underneath. Compare $80,000 to a $300,000 condo—and you don't have to pay property taxes, which for some people is $10,000 a year."
RV park perks
Hollingshead also said that choosing to live full-time in an RV park brings "all these extras that you don't have in a condo that you don't pay for" such as an outdoor pool and patio areas.
"The people here are just like neighbours, they get to know you," he said. "It's diverse and it's transient and people are coming and going, but there are long-term people here, there are others like me, and some have been here 20 years or more."
Looking to the future
Since he's still working full-time, Holingshead's Cedar Creek has not yet left the park. However, when he retires he said he will be ready to cash in on the mobility that having a home on wheels affords.
"When I retire it will be a different story," he said. "It will be paid off by then. I'll probably go to Palm Springs or somewhere south."
Hollingshead said that while some friends and family have remarked at the fact that he is "still living in the RV," most thought it was a good idea.
"I think some people related RVs to be little trailers," he said. "But the people who have seen it love it. And I love it. It's reasonable living."
Will more people choose the RV lifestyle?
Hollingshead sees this alternative living style growing more popular as traditional rent rates continue to rise.
"I think people are going to start looking at what their alternatives are," he said. "I think this would be ideal for single people who want to live in the city or go to school. Two students could easily live in this RV compared to what they would pay for an apartment downtown. A young couple could easily function here too.
"For young people that lived here and worked downtown it would be a piece of cake. They could catch a bus downtown and they're there, they're not paying for two cars and they're not paying for parking. They would just have to make the investment in buying the RV.
"Right now young people don't know about this option, they wouldn't know about it, because the only way you'd know about it is if you're thinking of retiring," he said. "As they start to look into them they may decide that they can live pretty comfortable in an RV.
"If I was young, I would have considered it for sure," he said. "They're beautiful."