A dream come true: camping in the U.K.
While waiting for their own unit to be shipped overseas, a couple rents a motorhome and explores Great Britain
by Kitrina Bryant —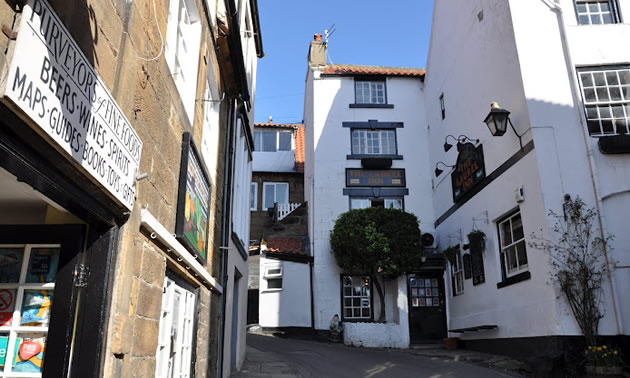 Despite a year's preparation for our international RV adventure, we still weren't prepared for the long delay between us and our rig reaching the U.K. So, having arrived in London four weeks prior to our rig's arrival, we decided a great way to introduce ourselves to the camping scene was through a motorhome rental.
We opted to rent a 24-foot motorhome from Amber Leisure (highly recommended for their excellent service and sparkling fleet), promptly named it Curry and set out to see some sights. We had Curry for four weeks and during that time made it up into Scotland and around most of England, making three stops on my must-see list: Robin Hood's Bay, Scotland's Cairngorms National Park and England's Lake District National Park.
But first a few notes on driving in the U.K. As I am sure you know, they drive on the left side of the road; most of the cars, including Curry, are manual transmission; the roads are incredibly narrow and the cost of gas (petrol) is atrocious—£1.40 per litre—almost twice as expensive as in the U.S. Although each of these items caused us alarm at various times, none of them stopped us from having a fantastic time.
To set the camping scene, let's talk about RV parks, called caravan parks, versus campgrounds—and the water, sewer and electric systems found at most locations. First of all, there are very few campgrounds in the national parks. The parks themselves sit on privately owned land and only a few have what we would consider campgrounds. So we most often found ourselves in caravan parks or on farm pitches. Contrary to rumours we had heard in the U.S., it is not acceptable to just camp anywhere you'd like in the U.K., and farmers who welcome caravans do so by providing actual pitches. More on that later.
To our delight, most caravan parks are quite lovely, with large, well-spaced pitches and good to excellent bathroom facilities, including hot showers and a separate sink area for vegetable preparation and dish washing. The pitches have electricity, but very few have water or sewer. If they do, they're called full-service pitches. Hang around your caravan during the day and you will notice a lot of men, and a few women, pulling various barrels back and forth from the water/sewer facilities. They are either filling up their fresh water barrels or dumping their grey- or black-water cartridges. Yes, most motorhomes and caravans (travel trailers) over here utilize a cartridge system for their fresh water as well as their waste. Many have no fixed internal tanks.
Robin Hood's Bay
But enough with the chores! On to the fun: After almost a week on the road, we found ourselves in Robin Hood's Bay, an adorable town nestled along the eastern coast just outside the North York Moors National Park. Forgoing the usual caravan park, we opted to try farm camping. Farmland is abundant and you will find that many farmers install electrical posts and provide some (almost level) pitches for motorhomes and caravans at a low fee. Hook's Farm was an ideal location—high enough on the hill to provide breathtaking views of the bay but still just a short walk into town. After getting Curry situated, we did exactly that and walked to the local pub for dinner—dogs and all. Dogs are often welcome in the country pubs—though not usually in the restaurants—an enjoyable experience we were unable to find anywhere in London.
For our full day in town, we took a leisurely eight-mile hike along Robin Hood's Bay on a gorgeous sunny day when the temperature reached the high 70s (20 Celsius), which is unheard of in March. The hike takes you across a few farms, where you are asked to open and close the pasture gates lest the sheep wander away. One farm had a fresh egg stand, so we purchased 10 eggs for £1.50. We finished the hike along the beach, where we topped off the lovely day with a fresh-from-the-farm ice cream cone.
Continuing our adventure up into Scotland, we headed toward Cairngorm National Park, first driving through the gorgeous areas of Killin and Aberfeldy. Scotland is so beautiful you could drive all day long with your mouth open in awe. I highly recommend stopping in either location on your way north, but be forewarned: the roads between the two towns are some of the narrowest we encountered.
We stayed just outside the park in Granton-on-Spey, a charming town with an excellent bakery, butcher and local pub, and spent our days hiking the many trails leading from the caravan park back into the hills or down by the River Spey. The weather continued to be sunny but much colder this far north.
The lake district
Heading back down south we had a quick stop in Edinburgh before spending two nights in the Lake District National Park—from what we've seen (and what locals have said), it's the most picturesque area of England. Soft, rounded mountaintops range back-to-back as far as you can see. It is a wonderful area for camping and hiking and the pitches are often booked many months in advance. Since it was the off-season (although still sunny and, being south again, back to warm by England's standards), we were able to grab a pitch on a farm, where we purchased some fresh eggs and milk before settling down in our spot next to the creek.
For our full day, we selected a relatively unheard-of hiking trail up to Angle Tarn, hoping to find it a little more solitary than some of the other routes. Let me tell you, the English are a much heartier hiking clan than we are! Their moderate rating is more like strenuous and there is rarely a switchback to be found. So if there is elevation gain on your hike (and there was plenty on this one) it simply goes straight up. After three hours and with our thighs burning, we reached Angle Tarn, savouring the incredible views, and enjoyed a picnic lunch along its shore.
Our four weeks went by very quickly but it was a great experience. Now our beloved rig (Salt the Airstream and Pepper the Cayenne) have caught up with us and we are headed off for more adventures throughout Europe. For more information about the sites we visited with Curry and further travels, please visit our blog. If you have any questions, please do not hesitate to contact me.