1 RV + 2 UK sisters + 4 Canadian provinces = international adventure
How to RV the Great White North from across the pond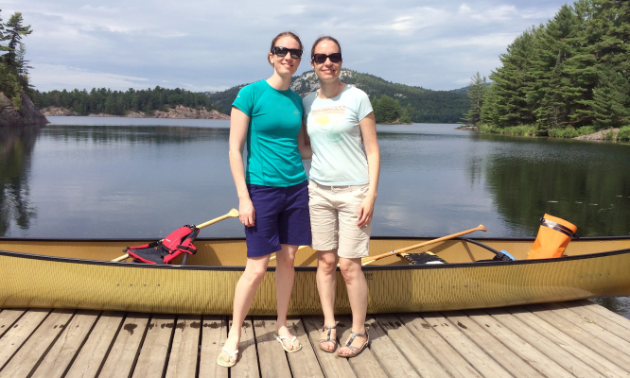 Many Canadians take living in the Great White North for granted. We often forget that the rest of the world doesn't have the luxury of seeing towering mountains, splendid lakes and open plains in their backyards. As such, our nation is a highly sought after destination. Folks from across the globe enter this land to interact with its beauty, wonder and the hospitable residents that dwell within. Outsiders can often illuminate and highlight the eminence of Canada that can be overlooked. Everything is fresh and new to them. That spirit of whimsy and discovery is contagious. When listening to foreigners praise this nation's beauty, it reminds us what we've got and how fortunate we are to live where we do.
Lucy Dodsworth is a blogger from Herefordshire, England, a rural, beautiful, peaceful area with lots of farms, cider orchards and pretty villages. Despite the picturesque setting, Lucy longed to travel—so much so that she gave up her full-time job at a university in London in 2011 where she worked in publishing as an editor and proofreader so she could become a freelancer. Since then, she's done a mix of editing, proofreading, designing and writing for different clients, along with running her travel blog, On the Luce. The blog gave Lucy the freedom to share her passion for travel along with tips, stories and photos from places she's been to. The blog has grown into a business that allows Lucy to work with destinations and travel brands, visiting places around the world and writing about them.
"I'd done a press trip to Canada organized by the tourist board and fell in love with the country," Lucy said. "So when they asked me if I wanted to do another trip travelling by RV, I jumped at the chance as I'd always wanted to try out RVing."
RV relay
The trip was part of a blogger relay where four groups of travellers went from one side of the country to the other in the same RV. The RV was provided as part of the trip and bloggers were given a limited budget to last the entirety of the journey. To make the most of her money, Lucy stayed in provincial park campgrounds and did a big grocery shop before starting out so she could cook her own meals along the way. Lucy found other ways to save cash as well, such as staying out of cities and engaging in free or low-cost activities like hiking and swimming. Driving at a slower pace also helped to save on fuel by using less.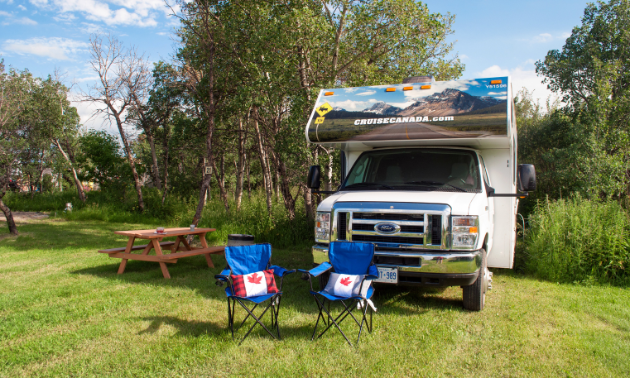 Lucy enlisted her sister, Lorna, to come along for the ride. The pair embarked on the third and longest leg of the four-group relay between Calgary and Toronto.
When choosing a partner to travel the country with, Lucy suggests picking "someone who's patient, not easily stressed and has similar ideas about tidiness as you," she said. "It's a good idea to go on at least a short trip somewhere with them first to see how you get on. Luckily, my sister and I had plenty of experience travelling together over the last 35 years, so it was no problem."
Having a comfort level and familiarity with a travel mate can prove beneficial when things don't come together as expected.
"I wish I'd known to check that we'd been given our bedding pack," said Lucy. "We got to our first campsite, completely exhausted after flying in from the UK, and found it wasn't where it should be. We spent our first night sleeping under our coats and had to head to Target first thing in the morning to buy some towels and bedding."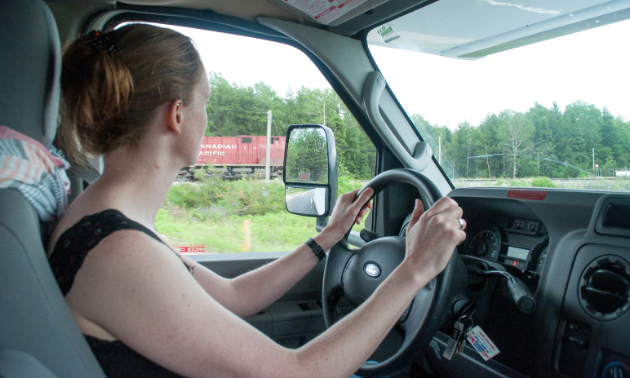 From there, the trip eased up considerably, thanks to Canada's wide roads and the convenience of settling in for a spot of tea wherever the mood struck.
"If you come from somewhere like the UK, which is full of tiny narrow roads, you'll probably feel intimidated by driving an RV," Lucy said. "But most of the roads we used in Canada were wide and straight. It was so much easier than we imagined. And RVing gives you amazing freedom. You can just stop whenever you see somewhere you want to explore and you've got everything with you. You can brew up a cup of tea or stop for lunch whenever you like."
A Superior spot to stop
Lucy came upon many eye-popping vistas on her route from Alberta to Ontario. One of her favourites was Lake Superior.
"We stayed in a campsite right along the edge of the water," she said. "Within a few metres of our pitch was a long, white sandy beach where we could swim in the lake and watch the sunset from the sand with a drink. It was such a blissful, tranquil spot."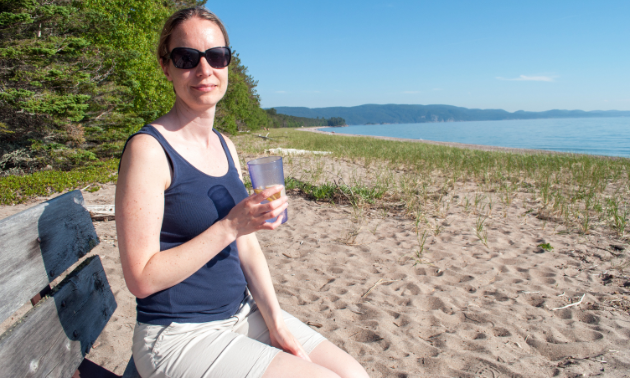 At the conclusion of her trip, Lucy put together a post for first-time RVers to answer all the questions she had before she started and that arose along the way to help others who would like to do a similar trip.
"I love to share the places I've been and things I've seen, but my biggest motivation for blogging is to help out people who want to visit the same places," said Lucy. "With RVing, there's a lot to learn."
Canadian hospitality
One reason Lucy felt compelled to showcase the RV lifestyle was because of the RVers that she and her sister met along their journey through central Canada.
"One thing that really struck us was how friendly and helpful our fellow RVers were," she said. "Being first-timers, there were all sorts of things we weren't sure about, but there was always someone to help us out—from lending us an extension cable when we realized our pitch was too far from the electricity outlet to making us our first hobo pie to toasting Canada Day around the campfire. The people we met made the trip extra special."