The Callaway Epic Flash
Introducing the 2019 Epic Flash driver in all its glory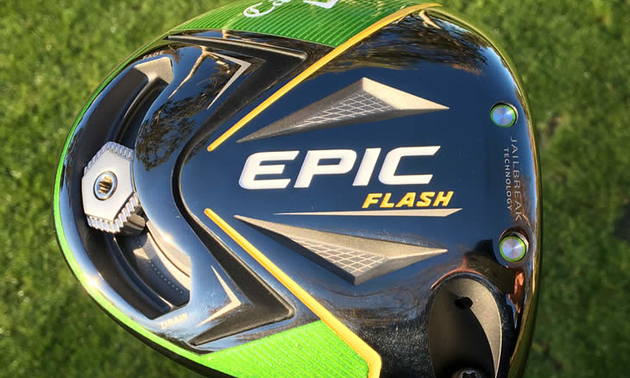 Most golfers are looking for greater distance off the tee and on the fairways. For the last few years, Callaway has produced the popular Rogue series. With golfing manufacturers concentrating on speed, distance and control, Callaway has been very innovative with the 2019 Epic Flash driver.
The Epic Flash driver employs a new technology called Flash Face, which improves speed and distance. Flash Face helps golfers produce more ball speed off the face, which makes the ball go farther.
Callaway claims that it has "fundamentally changed face technology through artificial intelligence." The artificial intelligence is not a robot, but a super computer that is capable of designing its own clubface. A five-million-dollar computer designed a clubface that is not flat but looks more like a human ear. The final result is a better transfer of energy on impact, producing a straighter and longer ball flight.
Additional characteristics of the Epic Flash include:
The OptiFit hosel produces lofts of nine to 12 degrees (plus or minus two degrees) with a 460-cc head and shaft length of 45.5 inches.
Callaway has retained the Jailbreak Bars that strengthen the chassis.
The sliding weight of 16 grams improves fads and draws.
Laser-etched lines or grooves surround the sweet spot, producing a very different look to the clubface.
The shaft varies from flex to extra stiff with a Golf Pride Align Grip to a graphite Hzrdus T800 shaft.
The colours of blue, yellow and green make the club visually attractive and easier to hit.
The club costs approximately $670.
Callaway also markets a second driver, the Sub Zero. As one of the top manufacturers of clubs, Callaway competes against TaylorMade, Ping, Titleist and Cobra. Manufacturers are using research and pushing technology in order to improve their clubs, especially their drivers. Golf pros who use Callaway include Phil Mickelson, Ernie Els, Michele Wie and Morgan Pressel. The result is better golf to play and watch.