B.C. golfers swing all winter long—with the right gear
What to wear and carry when golfing the West Coast this winter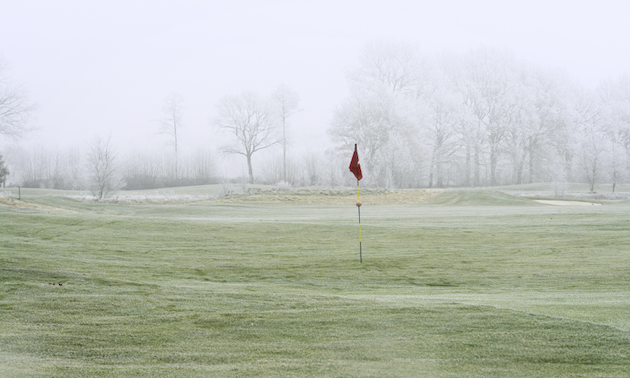 With the arrival of fall across Canada, golf courses are put to rest—but not on the West Coast of British Columbia. Here it is possible to golf 12 months a year with a few additions to your wardrobe and equipment.
Hat. You need a good winter ski toque. Contrary to popular opinion, 80 per cent of your body heat is not lost through your head—but keep it warm anyway.
Undergarments. It is probably too cold to golf if you have to use long underwear or thermals. The Under Armour company is dominating the market with its Cold Gear Subzero Compression mock-neck tee shirt for women and Cold Gear Longsleeve mock-neck tee shirt for men. These shirts maximize core body temperature, stop moisture loss and help with blood circulation.
Jacket. Use a sweater with a fleece sleeveless jacket, which allows the arms to swing freely. Another option is a North Face jacket. These jackets are goose down, providing warmth and comfort. Mizuno manufactures a light pullover, the Warm Lite Thermal, for cool days. For the "wet coast," the best option is a Gortex suit. These suits are sealed with special membranes to make them durable and waterproof. Gortex allows perspiration to escape, is windproof and maintains body heat.
Boots. Invest in good waterproof rubber boots with spikes. Some options include Oregon Mudders from FootJoy, Nike Zoom Brandon Winter Boots and Winter Climawarm by Adidas. Make sure they are stamped "Waterproof Guaranteed." Keep the feet warm with thick thermal or wool socks with a soft cushion. These types of socks are also used in hiking boots.
Umbrella. Sun Mountain has good durable products. Any umbrella needs to be of double canopy construction, made from nylon and fiberglass, with a windproof spring mechanism. The umbrella needs to be large, at least 62 inches, to cover the body and mounts on the push-cart handle.
Gloves. You need golf gloves on both hands. One of the better winter gloves is made by FootJoy, called FootJoy WinterSof Gloves. These fleece gloves are made for warmth and dryness and are windproof. The suede leather on the palm is for grip. Keep hand warmers in your pockets, either Body Warmer by Mizuno, Hot Hands or Little Hotties. Another option is ulti-mittens, which are gloves attached to the golf cart handle which allow you to easily slip in and out of your gloves.
Golf balls. When the temperature drops, so does the distance a golf ball travels. In winter, a soft, low compression, two-piece ball is needed. Every major company makes a soft ball, be it Titleist, Callaway or TaylorMade. My preference is the Srixon Soft Feel ball. If a ball is made for distance, leave it in your bag at this time of year.
Push cart. If you carry your bag, reduce the number of clubs and "stuff." If you push a cart, make sure your cart has three wide wheels, making it easier on soft wet fairways. Bag Boy has good push carts with wide wheels. Cover your bag with a Rain-Tek rain cover.
Power cart. If you are fortunate enough to own a power cart and can use it on your course, equip it with a universal winter enclosure plastic cover that keeps out the rain. A Coleman propane golf cart heater will keep the inside of your cart very warm.
Use the winter to work on your swing mechanics, short game, putting or any part of your game that is weak. Practice with those clubs that cause you grief. As for keeping score, work on your game and forget the score card. Golfing during the winter has obvious disadvantages, dealing with cool temperatures and rain. There are, however, many advantages, including cheaper green fees and being able to play a round in under four hours. For under a thousand dollars you can outfit yourself for winter golf while letting the rest of Canada shovel snow.