Odyssey Red Ball Putters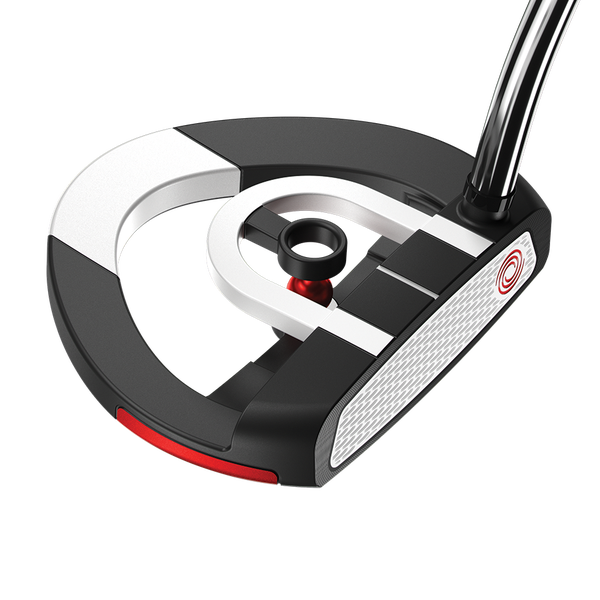 There are only two kinds of putters, the blade and the mallet. Over the past decade, the larger mallet putters have dominated the market and the PGA/LPGA Tour. Mallet putters are designed for forgiveness and hitting the ball straighter, regardless of their futuristic designs. The Red Ball mallet putter was designed by Austie Rollinson, Chief Designer of Odyssey at Callaway Golf and Sean Toulon, General Manager of Odyssey. Odyssey is owned by Callaway Golf. The club came out in late 2018 for the 2019 golf season.
The generic problem Odyssey had was to design a putter that would make golfers better putters while using alignment technology. When putting there are two major factors, speed of the ball and line of the putt. Which of the two is more important is debatable. The Red Ball Putter was designed to improve proper setup, alignment and producing a smooth consistent stroke.
Looking down at the putter, the entire red ball must be visible within the small metal ring or scope. That means that the putter is properly soled, eyes are over the ball and the clubface is square to the ball. If the putt is aligned properly, the ball will role at the target. The white 'U' shape helps alignment of the ball.
The rest of the Odyssey Red Ball Putter still has the White Hot RX insert to control the ball and roll. The White Hot face is made up of elastomer, a polymer with viscoelasticity and often interchangeable with rubber. In simple terms, the white material is just like the skin of a golf ball, resulting in a soft feeling when putting. The club length is the standard 34 inches with a three degree loft on the face and weighing 360g. A larger round grip is recommended, helping to take the hands out of play.
The Red Ball putter is approved by the United States Golf Association [USGA], and is legal for tournaments. In testing the putter, the club feels like an instructional or visual aid, helping to improve the putting stroke. For me, it felt comfortable to return to my old putter, an Odyssey Tank Cruiser # 7 mallet putter. The Red Ball does work and the learning curve is very short, but it still is necessary to properly read the greens, steady the nerves and still find the bottom of the cup.
Cost: $229.00 [CAN]