Use this portable solar cooker for an outdoor cookout
Save time, energy and the planet by switching to solar cooking
by Virginia Rasch —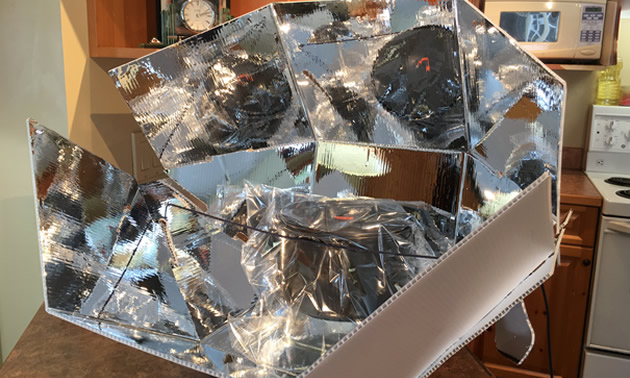 Saving energy while camping in your RV is always a wise choice, especially when you are boondocking at your campsite or hanging out at the beach. Using this new solar cooker can accomplish that goal.
Designed by retired physician Faisal Jhandir, the unit has a clever two-in-one design wherein the shipping box transforms into the solar cooking device. The solar kitchen comes complete with everything you need, which includes the pot, reusable plastic bags, pegs, and cord (but not the kitchen sink).
The box, a.k.a., solar collector, will be available in two materials: corrugated plastic or stainless steel. The corrugated plastic model is portable, lightweight and weatherproof and is made of 100 per cent recyclable material.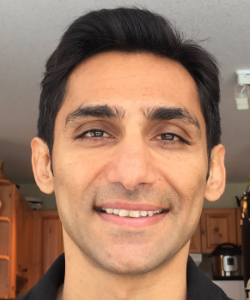 The stainless steel model will come with a lifetime warranty. Jhandir envisions that these long-lasting solar cookers could be rented out at campgrounds, parks and beaches. However, the stainless steel model does not fold into a box and hence is not as portable.
Both models will be sold with two complete solar kitchens so that you can cook two dishes at once.
The recipe for success with a solar cooker
How does the solar kitchen work? Just put your food into the pot, put the pot into the plastic bag, then put the pot into the stove and point the passive solar panel towards the sun. The panel collects the sun's thermal heat and thus the unit cooks like an oven in one to two hours. Temperatures reach up to 150 C (300 F) and food never burns.
"I wanted something which is portable," said Jhandir. "So I had an idea to turn a solar stove into a shipping box and my vision was that inside the box would be everything one needs to cook food with—basically a full kitchen in a box."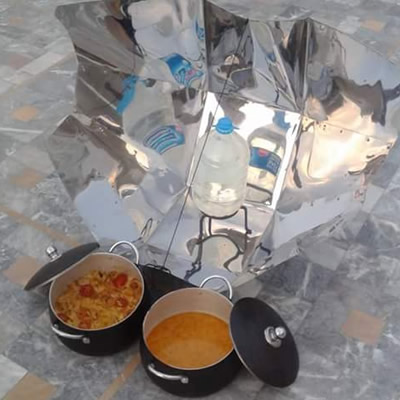 A diversity of foods can be cooked in the solar cooker, including barbecued chicken, lentils and rice, and even banana bread or brownies.
Other benefits of the solar cooker include:
Cooking outdoors even during a fire ban;
Keeping cooking odours out of your RV;
Decreasing the time you spend cooking as the cooker needs no supervision;
Decreasing the use of cooking-related fuels and thus reducing your carbon footprint;
Sterilizing water for drinking, if needed.
Jhandir is promoting his solar kitchen to everyone—from RVers to homeowners in their backyards to people in third-world countries with an aim to lessen deforestation, among many benefits. His vision is for every person to use solar cooking and thus decrease greenhouse gas emissions and decrease global warming.
"Start cooking with sunlight and many of the world's problems could be solved," he said.
This entrepreneur is in the preliminary stages of production of his solar kitchen and is producing the corrugated plastic model first. To pre-order one, visit his website www.solkitchens.com.