Never miss a shot
New Endeavor Belt and Wanderer Side Holster
by Kimberly Shellborn —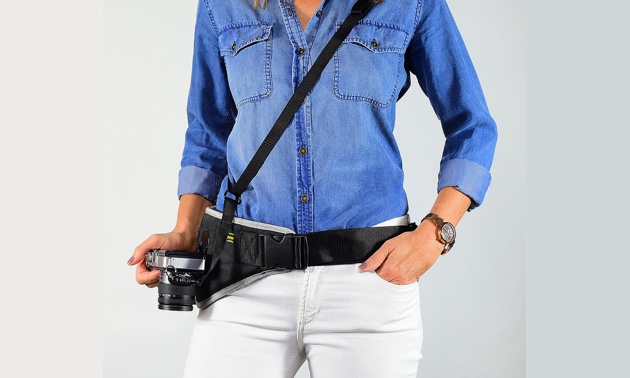 Cotton Carrier designs easy-to-use camera accessories for people who want to have their camera accessible and protected while out capturing life's moments.
Cotton Carrier has introduced two new camera carrying systems—Endeavor Belt and Wanderer Side Holster. With these systems, you can walk with your hands-free with no neck or shoulder strain.
"Our newly designed Endeavor Belt supports one camera comfortably and securely while still ensuring easy access with our quick release mechanism," said Brook Parker, chief operating officer of Cotton Carrier Camera Systems. "It includes our restyled shoulder strap with an integrated sliding safety tether and a small pouch to store your wallet, phone, keys or a spare lens. Perfect for day-trippers, vacationers, outdoor enthusiasts and those shooting everything from weddings to kids' sporting events."
"With the Wanderer Side Holster, photographers can now carry up to three cameras when it's used with our Camera Vest," Parker said. "And it also works great on its own. Just slide your pants belt through the belt loop on the back and you're ready for the shot."
These practical camera support systems work with all cameras from full-size DSLRs to smaller cameras.
For more information on all Cotton Carrier products, go to www.cottoncarrier.com.