Hand-held mosquito zapper—it's awesome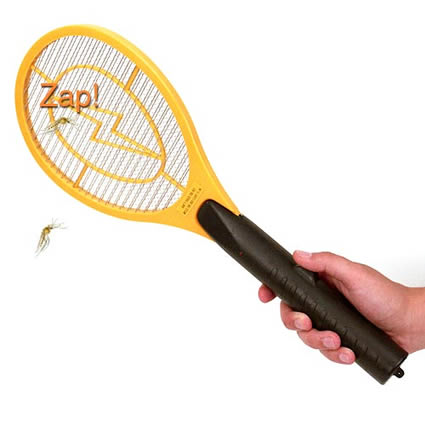 This new and innovative insect control device is easy to use.
I have read that in the old days the First Nations people and pioneers mixed and applied various concoctions of bear grease, skunk scent, wood smoke and herbs to repel mosquitoes and other biting insects. Having experienced first-hand the hordes of flies and skeeters on the Canadian tundra, I can understand their plight. I can fully understand how a person could actually be driven insane without protection of some kind.
In our RV we carry an assortment of repellents and insecticides. We also carry a screened gazebo to erect over a picnic table for a nearly insect-free environment. Not wanting to spray chemicals in the gazebo, we tried citronella candles, insect coils and smoke sticks to repel the inevitable invaders.
In sheer desperation, I tried what first appeared to be a child's toy tennis raquet. The hand-held mosquito zappers have been available at Wal-Mart, Canadian Tire and other retailers, but they soon sell out.
There is a learning curve of a few minutes before you really have an effect, but these zappers certainly work wonders. I started out swinging it like a bat to try to catch critters in mid-air but soon learned to gently trap the bugs between the tent wall and the zapper.
Powered by two penlight batteries, the zapper activates with the press of a button. The three-level metal mesh is then activated with a low electrical charge. When an insect contacts the grid and completes the connection between inner and outer mesh, there is a spark and a zapping noise—the bug is toast.
Whether it's mosquitoes, black flies, houseflies, blue bottles, bulldogs or even big bumblebees, one touch is death. Not only does the zapper kill these pests but using it is good exercise and kind of fun to do. There is no smoke, smell or residue. Occasionally you will have to rap the racquet sideways against a table to dislodge corpses from the mesh.
A word of caution: this is not a toy. It is not for children to play with and it could easily be damaged by using it like a fly swatter against hard surfaces.
The price varies but ranges from $10 to $12.
Would I buy another one? Absolutely. In my opinion this is one of the very best insect control devices on the market for the RVer during mosquitoe season. Once the gazebo was erected and the screens zipped closed, there were 20 or 30 bugs inside. Within five minutes I had eliminated them and we could enjoy our evening—and our dinner—in peace.