Backroadz SUV tent
A solution to storage problems while camping
by Kimberly Shellborn —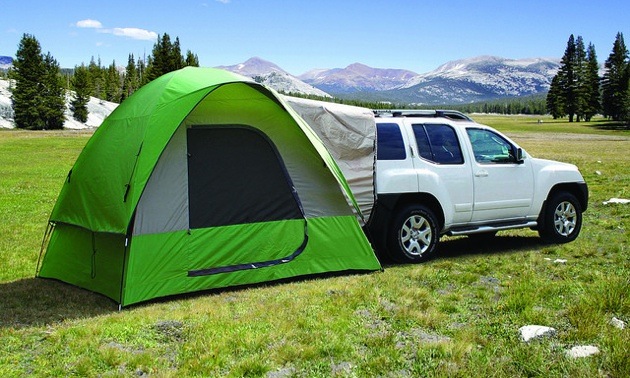 Camping is made easier with a Backroadz SUV tent that attaches to your vehicle.
With the Backroadz SUV tent from Napier Outdoors, you can set up your tent next to your vehicle and take advantage of the extra space for storage. You can keep everything neatly in your vehicle and when you want it, you can reach it directly from your tent. If it is raining you don't have to run out to get the flashlight that you forgot in the car and get wet in the process.
The universal vehicle sleeve fits hundreds of CUVs, SUVs and minivans to provide the most versatility in camping. Simply adjust the tent's vehicle sleeve to form a custom fit to your vehicle, allowing you total access for additional sleeping spaces or for storing gear.
A partial tape seamed door keeps occupants dry even in the wettest weather. When the trip is over, the tent comes down as fast as it went up and stores away easily in a carrying bag. It's the perfect option for family camping, fishing, hunting, off-roading and travelling. It's easy, convenient and affordable.