A tiny trailer for those who like to go everywhere
It's a camper with a tent that easily pops open for four adults to sleep comfortably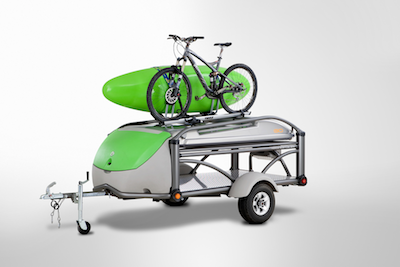 The SylvanSport GO is a mobile adventure unit that's durable, lightweight, stylish and one of the most versatile camping trailers in the world. Weighing 849 pounds, the GO can easily be towed behind a Subaru and most other small cars and carry up to 800 pounds of recreational gear and toys.
It's a camper with a tent that easily pops open for four adults to sleep comfortably. If you need more room, the awning easily zips onto the SylvanSport, adding an additional large area of dry space. Inside, it's roomy and comfortable with plenty of standing room, with a table in the middle for eating.
By adding a roof rack to the top it becomes a true outdoor gear trailer for carrying kayaks, bikes, skis or a combination of gear.
The SylvanSport GO is bigger than a four-person tent and more versatile than a Swiss Army knife. Extremely well made, it's easy to handle while driving or setting up in the outdoors.
Eric Albert sells the trailers in Western Canada through Paddle Travel. Call him at 403-396-1792.