A home for your RV
When your RV comes home for the season, have a dry and cozy storage condo ready for it.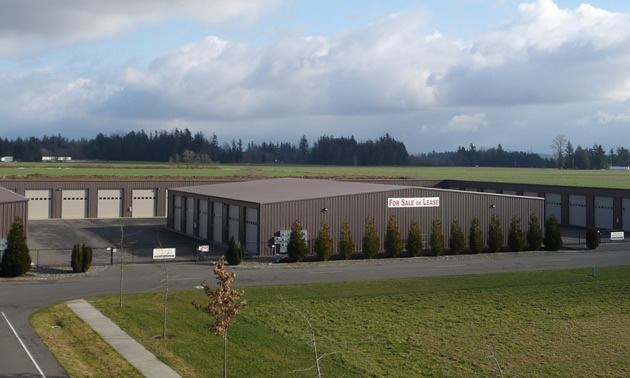 If you've invested big bucks in a motorhome or other large RV unit, prolonging its lifespan and maintaining its resale value just make sense. Appropriate off-season storage—especially if you live in an urban area—can be difficult to find and prohibitively expensive.
The options
Extended periods of outdoor storage put your RV at risk of weather damage and vandalism. If your unit has slide-outs, it becomes more complicated—do you follow manufacturers' recommendations and leave them extended, increasing the risks of damage? Or ignore the recommendations and hope for the best?
Renting an indoor storage berth for your RV is certainly an option if you don't mind disposing of your income that way. If you shop around, you may just find a facility that is conveniently located, secure and affordable.
There's a third option worth considering: buying your own RV strata unit. You can dodge the high-cost bullet by shopping just south of the border in Lynden, Washington.
Consider this
Dick Vandenberg of West Lynden Storage Condos has a sweet deal for Canadian buyers. Starting at US$55,000, his RV storage condos are priced considerably lower than comparable units on the Canadian side of the border.
"Because of the land costs, if we had built a commercial facility like this in B.C's Lower Mainland, the units would have ended up costing twice as much as they do here," Vandenberg said.
The units at West Lynden Storage are heated with natural gas and are fully insulated and drywalled. They will accommodate RV units up to 55 feet in length and are wide enough to house RVs with their slide-outs extended.
"Our units all have their own separate power meters," said Vandenberg, "so when you buy them you can basically do what you want inside. I tell people to budget about $1,200 per year to cover strata fees ($280), taxes (about $650) and utilities."
Along with security for RVs, West Lynden Storage Condos has important amenities for RV owners: a dump station, washrooms, water for filling the tanks and hosing down the RV, and a remote-controlled gate that allows 24-hour access. If you want to store your vehicle in the strata unit while you're on the road with your RV, fine. If you want to use it for boat storage, fine.
Vandenberg commented on the convenience of being able to stay plugged in.
"Some of the newer, fancier motorhomes have computers and stuff that likes to keep running," he said, "so being able to plug into a 50-amp plug—which most of the larger units have—is great. You can do that in your own unit in the off-season, keeping all your batteries charged until you need your RV. You can also run a charger for your vehicle."
A smart investment
If the cost of purchase causes some hesitation among prospective buyers, Vandenberg points to a reassuring fact.
"This is property that you're actually buying, with a U.S. address that offers you some tax advantages," he said. "So when you wish to sell it, chances are good that it will have appreciated in value."