Yogurt and pesto salmon
Choose foods that are simple, easy and good for you
by News Canada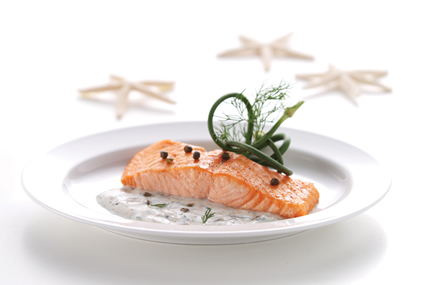 (NC)—When we're faced with the task of preparing dinner at the end of a busy day, the prerequisite is making something fast and easy. Unfortunately, when things are hectic, meeting the recommended daily intake (RDI) of any vitamins and minerals is not as important as satisfying pangs of hunger.
Salmon is a healthy and readily available protein that is low in calories and saturated fats. Salmon contains omega-3 fatty acids, which are good for your heart and known to help prevent cancer cell growth. It is essential to eat these acids because they cannot be made by your body. Similarly, calcium cannot be manufactured by the body so it is up to the individual to consume enough of it through food and supplements to maintain strong bones and prevent diseases like osteoporosis.
Yogurt and pesto salmon is a delicious recipe that is both easy and healthy, providing your body with omega-3 fatty acids and calcium.
Yogurt and pesto salmon
Serves: 4
Preparation: 15 minutes
Cooking: 25 minutes
Ingredients
750 g (1 1/2 lb) salmon filets or steaks
Marinade
250 mL (1 cup) Yoplait Asana Plain
30 mL (2 tbsp) pesto
30 mL (2 tbsp) lemon juice
3 shallots, chopped
1 clove of garlic, crushed
Salt and pepper
Preparation
In a bowl, combine ingredients for the marinade. Set aside.
Place the salmon filets or steaks in an oven-ready dish. Add the marinade. Mix well. If time permits, cover with plastic wrap and refrigerate for a few hours (optional).
Cover with aluminium foil and bake at 190°C (375°F) for about 20 to 25 minutes.
Remove from the oven and serve with a salad and steamed vegetables.
Yoplait Asana contains three complementary ingredients: calcium, vitamin D and milk basic protein (MBP™). This protein is an innovative dairy ingredient that can reduce the activity of cells responsible for bone destruction and increase cell activity involved in bone formation. One serving (175 g) of plain Yoplait Asana provides 40 per cent of the RDI of calcium, twice as much calcium than most regular yogourts.
More information and more calcium-rich recipes are available online at www.yoplaitasana.com.