Janet Groene's RV cuisine
Recipes for on-the-go travellers and adventurers
Submitted by Janet Groene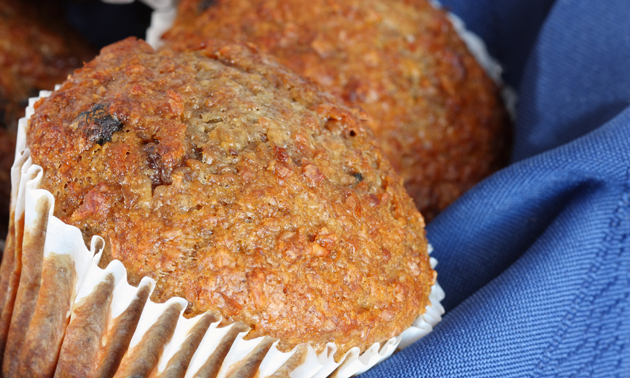 Janet Groene has cruised worldwide under power and sail, and can make maxi-meals using minimal water, fuel and counter space. Check out her recipe ideas for on-the-go adventurers.
Shortcut Chicken Bog
A classic Low Country dish is Chicken Bog, a flavorful blend of chicken and rice. Use only four ingredients when you make it my shortcut way.
1 can condensed onion soup
1 can water
1 cup raw rice
1 pound boneless, skinless chicken breast, cut in bite size
Put everything in a saucepan and bring to a boil. Reduce heat and cook, covered, 20 minutes or until rice is tender. (Brown rice takes 30 minutes.) Do not stir or peek but do keep heat low so it doesn't boil dry. Serves 4.

Oven method: Put everything in a buttered casserole, cover and bake 1 hour at 325 degrees.
Pressure cooker method: Put everything in a pressure cooker and bring to full pressure for 5 minutes. Take off heat and let pressure normalize.
Solar cooker method: Bring water to a boil and stir into the cooker with soup, rice and chicken. Cook until rice and chicken are done.
Variation: When dish is finished, fold in a cup of thawed peas and/or a drained small can of diced carrots. Let heat through before serving.
Reefer Muffins
Have fresh, hot muffins every morning from batter that keeps in your reefer for a month or more. Bake two muffins or a dozen to go with that first cup of coffee at sea. This is especially good for cold water cruising, when extra heat is welcome in the cabin in the morning.
14-ounce box of raisin bran cereal, preferably organic
1 ½ cups white or brown sugar
5 ½ cups flour
2 teaspoons sea salt
3 tablespoons baking soda
1 tablespoon vinegar
4 cups milk
4 eggs
1 cup canola oil
1 cup raisins (optional)
Put all dry ingredients in a large, clean bag and shake gently to mix well. In a bowl or refrigerator storage container that seals well, mix vinegar with milk and let stand a few minutes until it's clabbered. Whisk in eggs and oil until smooth. Stir in dry ingredients just until no dry spots remain. If you like more raisins, fold in the extra cupful. Cover batter and keep in the refrigerator.
To bake, grease muffin cups or use cupcake papers. Stir batter. Fill cups no more than 2/3 full. (I use a self-releasing ice cream scoop for easier filling.) Bake at 400 degrees for 15 to 20 minutes or until firm and springy.
Crispy Cheese Gorp
Cooks usually bake this dough in 80 to 100 little balls for cocktail parties but it's easier to bake it in one piece, then cut and wrap for the trail, commuting, camping or boating.
2 sticks butter, softened at room temperature
8-ounce package of grated Cheddar cheese
2 cups flour
1 teaspoon gourmet garlic salt
2 cups organic crisp brown rice cereal
Grease a 9 X 13-inch baking pan and set the oven to 350 degrees. Cream butter and cheese together and work in flour and garlic salt. When everything is well combined, fold in rice cereal. Smooth dough into an even layer in the pan, pressing with the back of a slightly wet spoon. Bake 20 minutes or until it's light brown. Let cool, then cut. If you cut in large cakes, wrap each separately. Bite-size pieces can be packaged in snack bags.
This snack provides fat and carbs for a vigorous hike. It's low in sugar and sodium and it's substantial enough to make a filling main dish on the trail. Add an apple and a bottle of water to make a meal.
Pineapple Dessert
Lightly butter four slices of cinnamon swirl bread and tear them into four buttered baking cups. Divide a small can of crushed pineapple over them (including juice).Top each with a pat of butter. Bake at 425 degrees until golden. Serve as is or top with ice cream or whipped cream.
See more of Janet Groene's shortcut recipes to save time, save water, save fuel, save expense when you are camping or RVing at www.campandrvcook.blogspot.ca.The Groenes lived full-time on the go for 10 years, wintering in the tropics on a sailboat and summering in their RV. Janet's recipes for sailors are found at www.boatcook.blogspot.com.