Grilled chocolate banana burritos
A family-friendly grilled dessert.
by Ted Reader, selected from Napoleon's Everyday Gourmet Grilling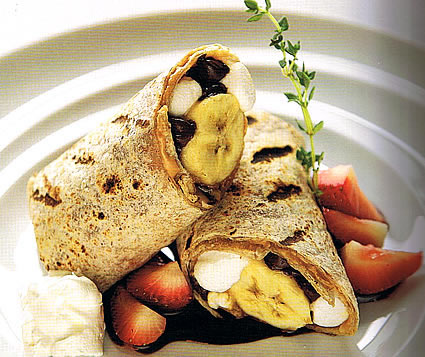 Ingredients:
3/4 cup (175 ml) creamy peanut butter
Six 8-inch (20 cm) flour tortillas
Three ripe bananas, peeled
1-1/2 cup (375 ml) miniature marshmallows
3/4 cup (175 ml) semisweet mini chocolate chips
1/2 cup (125 ml) butter, melted
Vanilla ice cream
Fresh strawberries
Directions:
Preheat grill to medium (350°F/175°C).
Spread 2 tbsp (30 ml) peanut butter on each tortilla.
Grill bananas for 3 to 4 minutes, or until lightly charred and heated through. Remove from grill and split in half lengthwise. Lay a banana half on each of the peanut-buttered tortillas.
Sprinkle 1/4 cup (60 ml) marshmallows and 2 tbsp (30 ml) chocolate chips on each tortilla. Roll up the tortilla, folding in the ends as you go.
Brush the burritos lightly with butter and place on the preheated grill. Cook for 3 to 4 minutes a side, or until heated through and lightly charred.
Serve with ice cream and garnish with strawberries.
Note: You can prepare these as far as a day ahead for a party. They are an excellent dessert to produce at the end of a complex meal or when there are lots of kids present.
Serves 6
Prep time: 20 minutes
Cook time: 15 minutes
To read RVwest's review of this cook book, visit the RV Reader.