Gingerbread pancakes
The perfect morning treat for lactose-intolerant guests.
by Tanya Laing Gahr (Review)/Recipe by Johanne Ratthe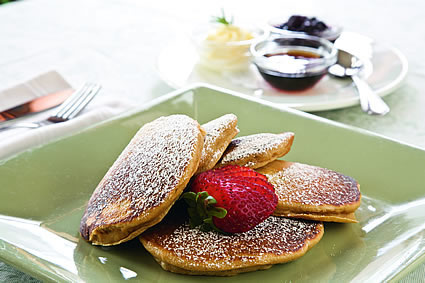 One of the most beautiful places on earth will soon be releasing one of the most delicious cookbooks. Island Lake Lodge near Fernie, B.C., is one of those rare, enchanted places that soothes the soul and nourishes the body with food beyond compare. The chefs at Island Lake Resort are challenged to create new menu items—French-inspired cuisine with a rustic Rocky Mountain flavour—on a continual basis and the results may actually rival the surroundings for superlative-inspiring rapture.
The new cookbook, which will be available on Amazon.ca or Indigo.ca, is a work of art—from the delectable photography of Henry Georgi to the delicious phrasing of writer Keith Liggett and the palate-pleasing recipes contained within. You can pre-order the books now to beat the rush or, even better, make the journey to Island Lake Lodge and enjoy the full experience.
1 1/2 cups all-purpose flour
1 cup packed brown sugar
1 tsp baking powder
1 tsp baking soda
1 tsp cinnamon
1 tsp ground ginger
Pinch grated nutmeg
Pinch salt
1 cup cold black coffee
1 cup canola oil
2/3 cup water
2 eggs
2 Tbsp fresh lemon juice
Additional canola oil for frying
Maple syrup to serve
In a large bowl, whisk together flour, sugar, baking powder, baking soda, cinnamon, ginger, nutmeg, and salt until well combined. In a medium bowl, whisk together coffee, canola oil, water, eggs, and lemon juice until smooth. Gradually add coffee mixture to flour mixture, stirring until almost smooth.
Heat a large oiled non-stick skillet over medium heat. Pour about 1/4 cup batter for each pancake into skillet. Cook for about 2 minutes or until golden brown on undersides. Flip pancakes, then cook for about 1 minute until golden. Remove pancakes from skillet and keep warm. Repeat with remaining batter, oiling skillet occasionally if necessary. Serve with maple syrup.