Try a Dutch oven cook-out
Dutch oven cooking is a fun, easy way to cook in the great outdoors
by Kimberly Shellborn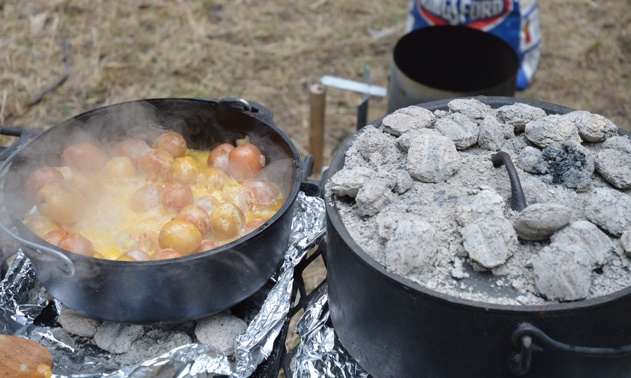 One of my favourite things about the camping experience is cooking in the outdoors. I know some people think that while they are on holidays they would prefer to have the simplest of meals and take a vacation from cooking. However, I love having the extra time to make a tasty meal.
I recently discovered how much fun, how delicious, and how simple it is to make outdoor meals in a Dutch oven.
Dutch ovens are large, heavy pots with their own well-fitting lids. Cast iron is recommended, as it provides an even cooking temperature and doesn't warp in extreme temperatures. Set the pots on top of a grate, then add charcoal briquettes under the pot and on the lid. The briquettes are your heat source and the tightly closed pot acts as an oven. You can make almost anything that you would normally make in a regular oven.
I decided to make a ham with an apricot ginger glaze in one pot, and baby potatoes with onions and garlic in the second, smaller pot.
Baby potatoes
Use either a non-stick spray for the bottom of the pot, or add about a tablespoon of olive oil. Wash the baby potatoes, cut the larger ones in half, and add to the pot. Chop two medium sized onions and crush two garlic cloves and add to the potatoes. Season with salt and pepper. Close the lid tightly.
Have two cups of grated cheese reserved to add at the last minute when the potatoes are tender.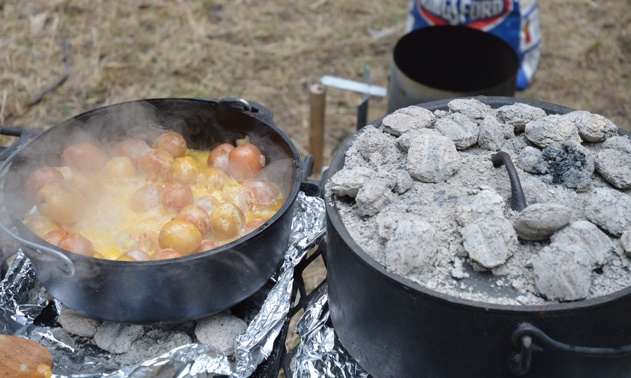 Ham with Apricot Ginger Pork Glaze
2 tsp thyme 2 tsp black pepper
1 tsp Chinese Five Spice 2 tsp onion salt
1 cup apricot jam 2 tbsp Dijon or oriental mustard
2 tsp minced garlic 1/3 cup soy sauce
3 tsp fresh ginger, grated 3/4 cup honey
2 tsp hot pepper flakes
Cook till done and gooey, about one hour. If it's watery, take lid off and cook down.
Pour the sauce into the second Dutch oven and add the ham. I added a few carrots and green peppers as well, but that is optional. Close the lid tightly.
Both of these dishes needed about 10 hot briquettes under the pot and 14 on the lid to cook. Make sure you distribute the briquettes as evenly as possible, so that you don't have hot spots inside your pot. When the briquettes look black, they need to be changed for hotter grey ones.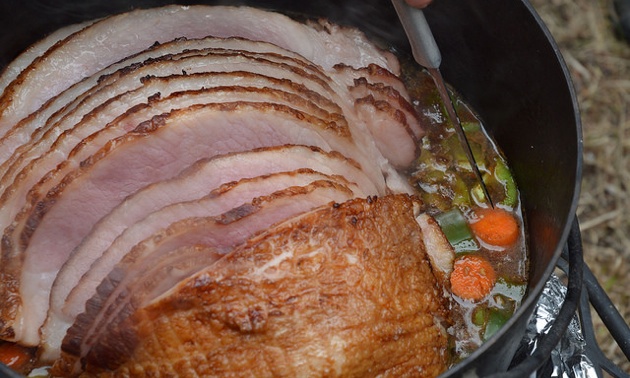 The cooking time is about two hours, but after about an hour and a half you can start to check to see if the vegetables are tender and if the meat is cooked.
The changing of the briquettes is the extent of your work. You can sit calmly nearby, reading your favourite book, and let your meal look after itself.
Once the potatoes were tender and ready to eat, I added grated cheese to them. To finish off the meal, I made a fresh green salad.
Serve up your meal, eat and enjoy. Watch as all the other campers become envious of your fantastic gourmet meal.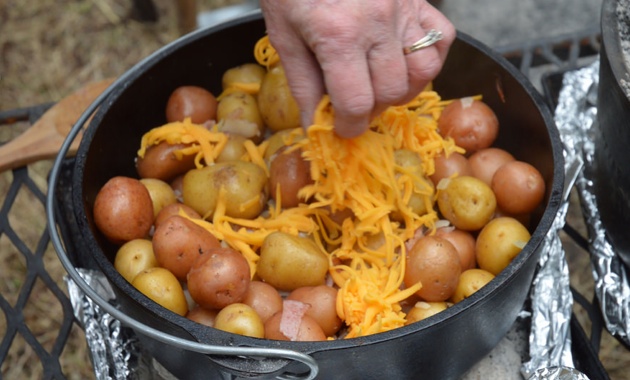 This type of cooking is especially excellent on a cooler day. Not only do you have the warmth of the food cooking, but you can have a hearty stew, soup or roast waiting to warm you up at the end of the day.