Comforting corn chowder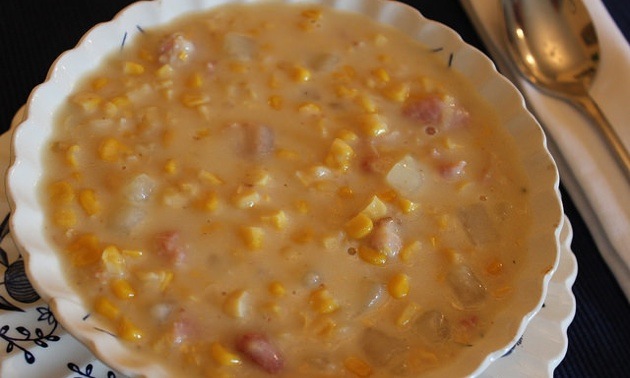 These recipes were submitted to us by Lori Elder from her book Students' Favourites — Recipes from the Piano Studio of Lori Elder.
The biscuits are the perfect accompaniment to the hearty corn chowder:
Corn Chowder:
1 medium-sized chopped onion
250 ml (1 cup) chopped ham (or bacon)
1 clove minced garlic
15 ml (1 tbsp) butter
30 ml (2 tbsp) flour
500 ml (2 cups) chicken broth
750 ml (3 cups) diced potatoes
5 ml (1 tsp) salt
2 cans kernel corn
1 can creamed corn
500 ml (2 cups) warm milk
Sauté onion, ham (or bacon) and garlic in the butter. Add flour and stir for one minute. Add chicken broth, potatoes and salt. Simmer for 20 minutes. Add the three cans of corn and the warm milk. Heat and season to taste.
Buttermilk Biscuits:
500 ml (2 cups) flour
15 ml (1 tbsp) baking powder
1 ml (¼ tsp) baking soda
5 ml (1 tsp) salt
5 ml (1 tsp) sugar
60 ml (¼ cup) margarine
250 ml (1 cup) buttermilk or sour milk
Mix together the flour, baking powder, baking soda, salt and sugar. Cut the margarine into the dry ingredients until crumbly. Add buttermilk, and form into dough. Roll out, then cut round biscuits with a glass. Bake at 200 C (400 F) for 12 to 15 minutes.