Avocado mango salsa
There are a million different ways to enjoy this healthy twist on salsa
by News Canada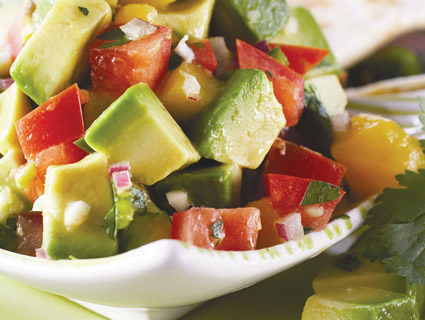 (NC)—The mango adds a sweet and lively twist to this spicy salsa. Delicious with chicken or fish, or on its own with soft corn tortillas.
Ingredients:
2 ripe avocados from Mexico, peeled, pitted and diced 2
1 ripe mango, peeled and diced
1 cup diced tomato (250 mL)
1/4 cup chopped cilantro (50 mL)
2 tbsp chopped red onion (30 mL)
1 tbsp minced jalapeño pepper (15 mL)
1 tsp minced garlic (5 mL)
1/2 tsp salt (2 mL)
1/8 tsp ground black pepper (0.5 mL)
1 tbsp lime juice (15 mL)
1 tbsp olive oil (15 mL)
Directions:
In bowl, combine avocados, mango, tomato, cilantro, onion, jalapeño, garlic, salt, pepper, lime juice and olive oil; toss gently. Serve, if desired, with sliced veggies and chips, in a stemmed glass with shrimp or with grilled chicken or fish.
Yield: 3 cups
Source: www.missavacado.com
- News Canada (www.newscanada.com)