A snowbird's adventures in the Chile Capital of the World
Chile history, facts and recipes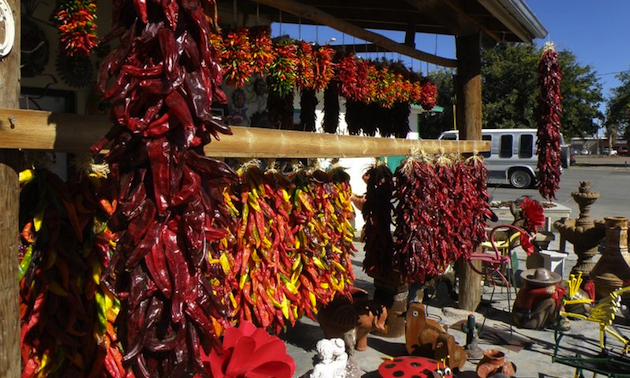 Travel south on Interstate 25 through the centre of New Mexico and you will find Exit 59 south of the city of Truth or Consequences that goes off to Arrey, Derry and Hatch. Hatch, New Mexico, is the Chile Capital of the World. You can see the fields from the road—some still have bright red chiles hanging from the dying plants while others fields have leafless stems sticking up through the arid soil. Chiles are drying everywhere: bright red chiles are spread over dazzling white sheets dotting the yards of smaller growers, chiles lying on rooftops and car roofs as they soak up the sun and go from brilliant red to dark burgundy.
Chile? Don't you mean chili?
The first thing I learned was that in New Mexico chile is spelled with an e, not an i. Huh—imagine that! No, chili is not the same thing as chile. Chile refers to peppers of the genus capsicum and the Hatch area produces the best. Hatch Chile Festival is held over the Memorial Day weekend to celebrate the notoriety and harvest of green chiles. By the time we got there, only the red chiles were left. But I wanted to get up close and personal and see what happens next.
Chile processing plants
We stopped at the first chile processing plant we saw, AA Chile Company. We were greeted at the door by a fellow covered with chile dust from stem to stern. We noticed that most workers wore gloves, breathing masks and nets over their hair and beards. Once the chiles are trucked to the plant from the fields, they are washed with a special solution to sterilize them and then put onto trays that are on tracks to travel through the drying tunnels that reach 150 degrees F. Most of AA's chiles are crushed and sold wholesale to food companies. Paprika is one product they produce from those specialized chiles.
The second plant we visited, MBJ Packing, is family-run and our tour was with two of the brothers, Angel and Manuel. They not only dry chiles, they produce salsa and do custom packing. Their mother helps make the salsa, their sister helps with the customized packing and Angel does the marketing in El Paso. He was at the plant because they were busy and needed his help. Their process is different because they use steam to sterilize the chile and they pack some of the chiles whole—dried but supple, so the chiles can be packed into boxes without damaging them.
We discovered that the long strings of chiles that are sold all over are called ristras. They are mostly used for decoration now, but originally they were a way to dry the chiles to use later. So Deb and I decided to try our hand at stringing the chiles. After we finished, we found directions on how to do it. Yes, they did fall apart but that was okay—we just put them into the freezer until we get the courage up to try to cook with them.
Macho Chile Rellenos by Eloisa Mendez
Filling (two choices):
1. Brown seasoned hamburger and onion, stir in grated cheese while hot to melt. OR
2. Use strips of your favorite cheese (Monterey Jack, Colby, Asadero, etc.)
Batter:
1. Combine 1 cup flour with 2 tsp salt and 1 tsp pepper on plate.
2. Beat 4 egg whites until stiff, fold in egg yolks; add 1 tsp baking powder, 1/2 tsp salt. Roast and peel long straight green chile, slit side open, take out seeds carefully. Carefully stuff the chile with your choice of filling. Roll stuffed chile in flour, dusting both sides. Dip chile in egg batter. Fry in ½ inch of oil on medium high heat until browned on both sides.
Green Chile Salsa
One 28 oz can diced tomatoes
10 green chiles, roasted, peeled and chopped
1 clove garlic
1-2 jalapenos, if desired
Half an onion, chopped
Mix ingredients together. Salt to taste. Serve with your favorite tortilla chips.
Baked Squash and Green Chile
6-8 zucchini or yellow squash
3 slices cooked bacon, crumbled
Half a chopped onion
Garlic salt to taste
2 slices of toast, crumbled
6 roasted, peeled, chopped green chiles
Half lb grated Monterey Jack cheese
1 small diced can of tomatoes, drained
Put chopped squash and onion in pan, cover with water, boil 5-10 minutes or until tender. Drain water. Add tomatoes and green chile to squash/onion mixture. In 8x8 baking dish, layer squash mixture, crumbled toast, crumbled bacon and grated cheese. Bake at 350 degrees F for 25 minutes.
Chili Powder
This powder is used to make chili con carne and replaces the commercial type. Experiment with the ingredients and adjust them to your taste.
5 tablespoons ground New Mexican red chile
1 tablespoon ground hot chile
1½ tablespoons ground cumin
Mix all the ingredients together and process in a blender or spice grinder until fine. Store the excess powder in a glass jar. Yield: ½ cup. Heat scale: hot.
Dry Jerk Seasoning
Jerk seasoning is actually a delicious, tropical way to barbecue. Use it to season either pork or poultry; simply rub into the meat, marinate overnight in the refrigerator, grill (or bake) and then enjoy!
1 teaspoon dried ground habanero chile or 1 teaspoon coarsely ground black pepper. Substitute other hot powder such as cayenne.
1/2 teaspoon ground nutmeg
2 tablespoons onion powder
1/2 teaspoon ground cinnamon
2 teaspoons ground thyme
1/2 teaspoon garlic powder
2 teaspoons ground allspice
1/4 teaspoon ground cloves
Combine all the ingredients and mix well. Store the extra seasoning in a glass jar. Yield: About 1/4 cup. Heat scale: hot.
Chile and Herb Salt Substitute
Use this recipe to eliminate excess salt from your diet or salt from any recipe you cook. It tastes the best, of course, when you grow and dry your own herbs, but commercially purchased dried herbs will work as well. Try this mixture on baked potatoes, pasta and vegetables, and especially on corn on the cob.
4 tablespoons dried parsley
1 tablespoon dried dillweed
4 tablespoons dried basil
2 tablespoons paprika
2 teaspoons dried rosemary
1 teaspoon celery seed
1 tablespoon dried tarragon
1 teaspoon crushed, dried red chiles
2 tablespoons dried thyme
Place all ingredients in a mini food processor and blend for 10 seconds or so. Put the mixture into a shaker jar and cover tightly until ready to use. Yield: 1/2 cup. Heat scale: mild to medium.