Roast a turkey practically anywhere with this ingenious method
Check this detailed method for cooking the perfect Trash Can Turkey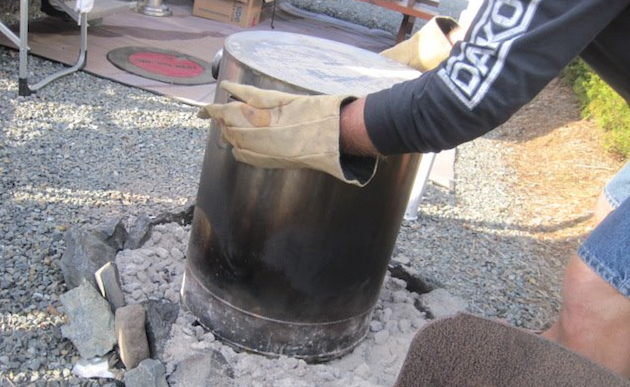 Lorraine and Carl Wilson of Victoria have spent plenty of holidays in their RV, but haven't had to give up hosting family dinners, thanks to Carl's Trash Can Turkey recipe. Turkey on the road have never tasted so good. Here's how they do it:
Prepare a 20- to 25-pound turkey in your usual manner with your favourite stuffing. Place the bird in a foil roasting pan, but don't cover it with foil as you would in a conventional oven. Use two pans for better stability.
Prepare a flat surface on the ground, bigger than the size of a large galvanized garbage can, and lay foil on the ground to cover this area.
Place the bird in the pan in the middle of the foil and invert the garbage can over the bird to create an oven. Pile charcoal briquettes on the ground tightly around the base of the can about two to three inches high and also some on the top of the can/oven. Light the briquettes, adding more as they burn down. You can also try lighting the briquettes in a separate dedicated can to speed up the starting process, and then spread them around the base and top. It takes about an hour to come up to temperature.
A small hole in the side of the trash can for a thermometer can help ensure the temperature is maintained to at least 300 degrees.
A bird this size takes about five or six hours, depending on the temperature outside, the wind and other weather-related factors. When the turkey is done, carefully remove the trash can and the bird will be golden brown, moist, and very hot. The pan will be full of juice so you will have plenty to make gravy. Enjoy!
Recipe courtesy of Lorraine and Carl Wilson and Karen Fraser