Famous Five of Diamonds now the world's largest lure
The iconic Len Thompson Five of Diamonds is now a 12-metre monument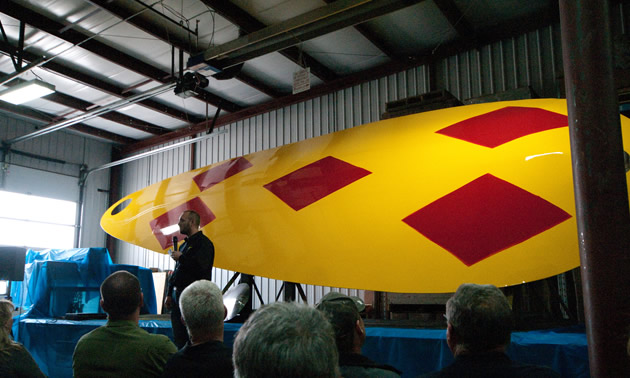 The largest fishing lure in the world now resides in Lacombe, Alberta. The Thompson-Pallister Bait Co. 2015, the Canadian manufacturer of renowned Len Thompson fishing lures, is celebrating 90 years of tight lines and family fun on the water. As of June 1, 2019, visitors to the factory site will be able to view the monument installed at the fishing pond at the end of Len Thompson Drive in Lacombe, Alberta. Travellers will be able to see the 12.9 metre high (42.5 feet) yellow and red Five of Diamonds from Highway 2A.
Alberta is already home to a collection of world record-setting monuments, which are a good reason for a road trip: Andrew's massive mallard duck, the largest beaver at Beaverlodge, the first UFO landing pad at St. Paul—the list goes on. Now, Lacombe can brag it has the biggest fishing lure in the world.
Sneak a peek in any resident's fishing tackle box in the Canadian prairies and you will find at least one Five of Diamonds fishing lure. Since 1929, Len Thompson lures have remained consistent: hand-painted, solid brass, perfect for casting and trolling and loved by fishers everywhere. The company has sold 50 million solid-brass spoons since Len Thompson beat his tin can-prototype lure into existence with a ball peen hammer.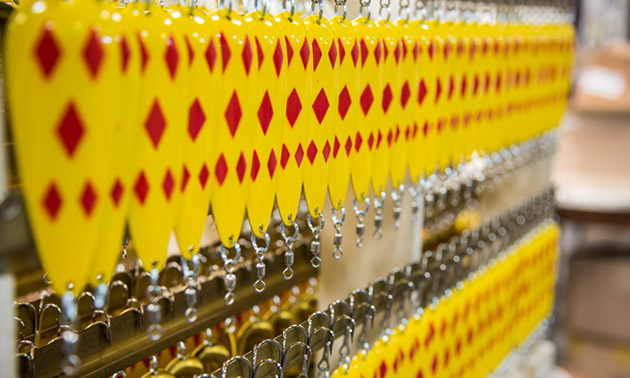 Dissatisfaction is a good motivator for someone who is willing to tinker a solution. Back in 1929, after the First World War, Len Thompson returned home and wasn't satisfied with the casting and trolling lures he could find. He tinkered a solution with tin snips, a soup can and a ball peen hammer. Once he had the desired shape, he loaded the spoon with lead to make the lure carry when cast. The environmentally friendly solid-brass design followed. Len fished prairie pothole lakes for pike, walleye and lake trout. That was 90 years ago.
Today, Len Thompson solid, hand-painted, brass spoons cast easy. That distinctive wiggle-wobble at a leisurely retrieve is a combination of flash and flicker fish can't resist. The lure I cast as a boy on the Blindman River near Lacombe was a Len Thompson. Last year, I caught an eight-kilogram (18-pound) pike on a Five of Diamonds number two spoon.
I've caught rainbow trout, lake trout, walleye, perch and pike over the course of a lifetime—sparkling memories are stacked up like shiny lures in my fishing tackle box. I remember my Uncle Al's encouragement to cast again and Dad's coaching to slow the cranking: one-one-thousand, crank, two-one-thousand, crank. Those voices of encouragement reverberate in my head every time I cast a Len Thompson lure, see the pretty arc of backlit monofilament and smile at the splash when solid brass slips beneath the surface of prairie pothole lakes.
Brad Pallister is the president of the Thompson-Pallister Bait Co. 2015 and Jessica Pallister-Dew is the marketing manager. This brother-and-sister team are the great grandkids of Len Thompson, the fourth generation to take the reins at the family business.
The folks at Len Thompson are proud of their heritage, their Canadian-manufactured product and their role in the community. When you're camping this summer in central Alberta, take the kids to Len Thompson's fishing pond to wet a line, book a tour of the factory and admire the 90-year legacy of passion evidenced by the new world record.