Panache on the plains
The French Counts of St. Hubert brought European aristocracy to the Prairies
by Glynis Fediuk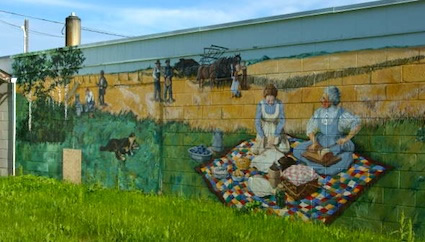 Many of the residents of Whitewood, Saskatchewan, can trace their roots back to some of the original European settlements in the area. Finnish, British, German and Eastern European immigrants all made their homes here; one of the more unusual settlements was that of the French Counts of St. Hubert, a group of French and Belgian nobles attempting to bring European aristocracy to the Prairies.
Boyd Metzler, secretary-treasurer for the Whitewood Tourism and Heritage Committee, said the exact date of the counts' arrival isn't known, though they were established by the mid-1880s. The French Counts settled southwest of Whitewood in St. Hubert, living in a number of chateaus, the largest known as la Rolanderie. Additional European immigrants also joined the counts, acting as labourers and employees.
In their quest to live the high life, the counts would rent a hotel in Whitewood for lavish parties and invite local patricians. They started a number of business ventures, many of which unfortunately resulted in failure. These included growing sugar beets and chicory, raising sheep, and starting a gruyere cheese factory.
"They wanted to raise horses for the French army," said Metzler. "That didn't make much sense—you would have had to get them on the train and ship them across the ocean to France."
As their enterprises failed, the counts began to disperse, eventually selling off their properties and moving on—some travelled across Canada, some went back to Europe. However, their influence can still be seen, either in the heritage of the residents or as artwork: Whitewood has several murals throughout the community highlighting important aspects of the town's past.