Through the Thompson Pass and into Tok, Alaska
The highway was full of frost heaves and breakouts, which coupled with the rain made driving a real chore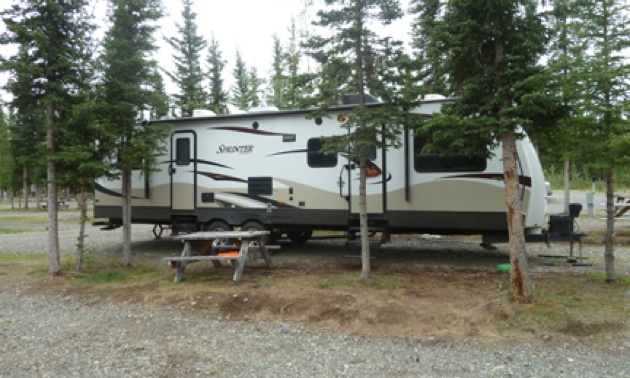 The sky was overcast with low clouds when we left Valdez. As we climbed Thompson Pass we entered the low clouds, giving us almost zero visibility for a long time. We didn't get out of the clouds until we were past the turn-off to the Worthington viewpoint.
After stopping for a light lunch at the Wrangell, we went to the St. Elias Visitors' Center, where we spent about one hour looking at the exhibits. Leaving there, we continued to the Tok-Glenallen still in the rain, which followed us all the way to our evening's destination.
Again the highway was full of frost heaves and breakouts, which coupled with the rain made driving a real chore. So by the time we got to the Mentasta Lodge we decided to stop for a break and a snack. Having stopped here on most of our previous trips we knew the food would be good, with big portions. We were pleased to know they are keeping up with the practice. After the break, we continued to Tok with the rain still following us and with a greatly improved highway approaching Tok.
Arriving at Tok RV Village, we checked in and got our unit set up, still in the rain. Needless to say we slept well that night.
Getting up late the next morning, we had a lazy day visiting the Burnt Paw, Tok Visitors' Center and a couple of souvenir shops, picking up a couple of items for our grandchildren.