Days 55 and 56: Beaver Creek to the Cottonwood RV Park
The lovely Cottonwood RV Park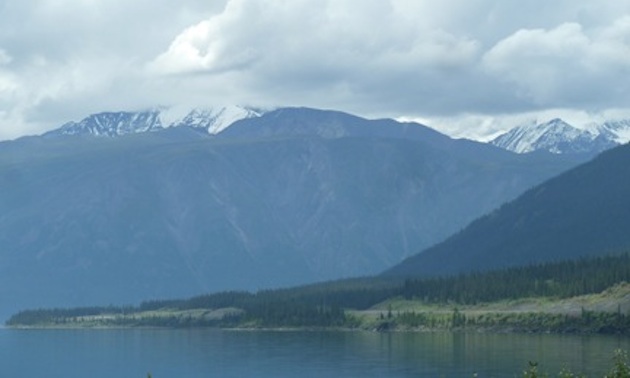 Day 55-56
It was still raining when we left Beaver Creek and even though we ran into some construction we didn't get our trailer or truck too dirty, as there was enough rain to keep them reasonably clean. Along the way we stopped at the Kluane Museum of History and were amazed at the displays, with most of the wildlife being displayed in dioramas to reflect what they and their natural habitat would look like. In addition to the dioramas they have displays showing artifacts of the indigenous people of the area. Well worth taking the time to stop and visit this uniquely done facility.
Continuing in the rain we drove along the highway towards our night's destination. The highway was not as good as we remembered, but it wasn't a problem even though there were a couple of short sections recently chip-sealed. We arrived at the Cottonwood RV Park, which is situated on the shores of Kluane Lake. After getting set up, we took it easy for the rest of the day. Going to bed we hoped that tomorrow would be a day without rain.
Even though we had a little rain during the night, morning brought us cloudy skies but no rain. As the day progressed we were blessed with blue skies with only a few clouds. This gave us the chance to see just how beautiful the views from this campground are, from the mountains to the lake. We have used this campground for our stays since our first trip to Alaska in 1996. The owners have not only kept it clean and well-maintained, but have expanded and improved it over the years. The only thing that is not conventional is that there are no garbage facilities and you have to take it with you when you leave. This rule is for everybody's protection, as the RV park is in a grizzly bear area.