Camp by the river in Moose Jaw
At 90-plus years old, River Park Campground has a long history of hospitality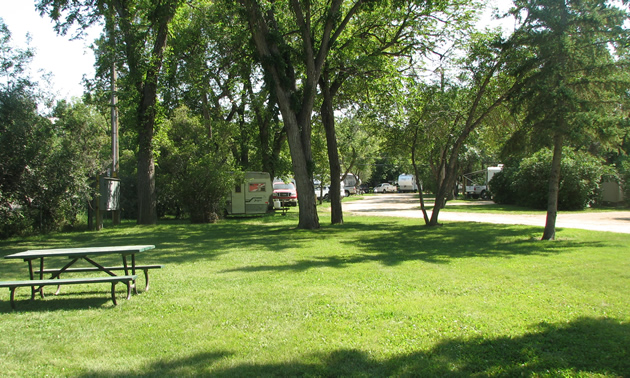 Visitors to Moose Jaw, Saskatchewan, can find the River Park Campground in the valley of the sleepy little Moose Jaw River, a 10-minute walk from the city's historical downtown core. The park has 60 campsites and lots of mature trees providing shade in hot weather.
The campground opened in the 1920s, and is one of the longest continuously run campgrounds in North America. It is situated on Crown land and was owned and run by the City of Moose Jaw until the 1960s when it was leased to independent contractors. In 2013, the Wakamow Valley Authority (WVA)—which is run by the city, the municipality and the province—took over management of the campground. Bob Wills was the manager of the WVA for 18 years before spending several years as a volunteer with CUSO, and his availability and love for the area made him a good candidate for the position of park host.
Customer satisfaction comes first
Wills said that the WVA is assessing the needs of the campground and planning a few changes.
"We will be updating the power supply to accommodate the greater draw of the large RVs, and some of the sites may be modified to make them easier for the big RVs to access," he said. "When the park was private, there was a focus on fitting more campsites into the space, but now we're more concerned with convenience and comfort for the guests."
Wills said most of the campers who stay at River Park for the first time are interested in seeing the Tunnels of Moose Jaw, a very, very popular attraction. Another segment of the campground's visitors is made up of retired pilots. Moose Jaw is home to the NATO Flying Training in Canada program as well as the Canadian Forces Snowbirds, and many former pilots come back to see how the city has changed since they were students here.
Variety and inspiration
Two things surprised Wills as he became acquainted with the day-to-day operation of the campground.
"I have been quite surprised at the number of international visitors who camp here," he said. "We have people from Germany, Ireland, Spain, Italy, Switzerland—our tourism people are doing a great job attracting people to Moose Jaw, and lots of them seem to find this little park. It has surprised me also to see how many tenters we got staying with us last year—people who were travelling by bike and motorcycle."
Wills lives on site, in an apartment attached to the office facility. In the course of his workday he spends a good portion of his time answering questions and giving directions to guests, and visiting and getting acquainted with them. Learning about their history and their adventures is an aspect of the job that Wills believes will continue to keep him interested and inspired.